7 Costly Home Repairs
Posted by Angie Cole on Thursday, April 11, 2019 at 5:00 AM
By Angie Cole / April 11, 2019
Comment

The Savvy Synopsis
As you prepare to sell your home, you might need to make a few renovations. However, some repairs are costly, and they might not be worth the trouble to make. We'll discuss the seven costliest home repairs you might face.
Download this episode (right click and save)
Featured Foundations:
7 Costly Home Repairs
00:40 - We found a list of the seven costliest home repairs. It includes, foundational repairs, furnace and/or central A/C repairs, water damage, lawn replacement, tree removal, pest problems, and septic repairs. If you're preparing to sell your house, you need to know how to appropriately address these issues.
2:16 - Lawn replacement is purely cosmetic. You'd never run into an inspection issue with lawn replacement. If your buyer wants new sod, they need to negotiate that in their offer.
2:45 - A/C issues and water issues do arise from time to time. During the due diligence period, the buyer gets to negotiate with the seller, and the seller needs to disclose those issues during the process.
4:20 - If we see a major repair that needs to be made, we suggest the seller be upfront about the problem. Usually, we suggest water issues be fixed. Other issues are not as serious, and the seller doesn't necessarily have to fix the problem.
5:20 - Unaddressed problems sink deals. If you notice a problem as you prepare to sell your home, address it. Don't let serious issues like water damage go unchecked. Work alongside your agent and your buyer to identify and solve the problem.
The Neighborhood Spotlight.
9:32 - Join us as we travel to Peak 502 At Beaver Creek in Apex.

This neighborhood is located right between Kelly Road and Beaver Creek Commons Drive.
Construction is still actively happening in this neighborhood. It's a great mix of townhomes and single-family homes.
Peak 502 at Beaver Creek is a low-maintenance neighborhood. The HOA covers all lawn maintenance.
Price: $280,000 - Mid-$400s.
Size: 1,800 square feet - 3,200 square feet.
Mailbag.
12:12 - Skylar in Apex asks whether she can wait until summer to sell her home.
Skylar, you need to get your home on the market ASAP. The spring market is in full swing, and it's all sorts of busy. As a result, competition is tight, and if you list your home now, buyers will be met with a sense of urgency.
Get In Touch:
Subscribe:
Apple Podcasts - Google Podcasts - Spotify - Stitcher
The Host:
Angie Cole - Contact - Call: 919-538-6477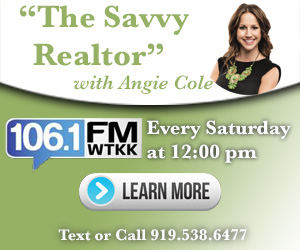 Show Transcription: