Critical Steps To Selling Your Home
Posted by Angie Cole on Thursday, May 16, 2019 at 5:00 AM
By Angie Cole / May 16, 2019
Comment

The Savvy Synopsis
Maybe you're ready to sell your home but have no idea where to start. Angie gives a step-by-step guide for what to do, making it as seamless as possible. From finding a real estate agent to receiving the best possible offer, these basic steps will help you sell your home for the right price.
Download this episode (right click and save)
Crucial Steps To Selling Your Home
1:06 Find a Real Estate Agent
Angie shares about someone who tried to sell-by-owner and realized potential buyers want to work with a real estate agent.
It shows that the seller is motivated to sell and willing to take advice from an expert.
Look for someone you can trust, communicates effectively, and is savvy in the process.
3:23 Estimate Your Home Value
This is where you work with your real estate agent to pull together comparables.
Look at the condition, interior features, and compare to others.
6:18 Set the List Price
You want to make sure you don't overprice it and chasing the market.
If you overprice it, you'll make less in the long run than if you priced it right.
Don't underprice it either because you might get someone who will try to negotiate.
Lean on the expertise of your agent.
8:48 Marketing Your Home
Stay up-to-date on social media.
Stage your home to freshen the look and get it show ready.
You want people to envision themselves as the buyer.
Declutter and depersonalize it to prepare it to go on the market.
Buyers are often looking at their home online first before anything else.
11:30 Negotiate for the Best Offer
Typically, your first offer is your best offer.
If your home sits on the market longer then you will get a lower offer.
Angie shares an example about a seller who needed help negotiating.
Consider the caveats, not just the price, that is included in the offer.
14:55 Continue Through Closing
Don't be anxious, but also realize that you aren't done.
There will likely be a few inspections and perhaps more negotiating.
Respond in a timely manner and keep the process moving forward.
Finally, celebrate!
The Mailbag.
17:53 Mailbag: Importance of School Districts
Trish from Holly Springs asks how important the school district of a home is.
School districts and the prices of homes have a direct correlation due to supply and demand.
An area with well-ranked schools is a must for some buyers, but not for everyone.
Get In Touch:
Subscribe:
Apple Podcasts - Google Podcasts - Spotify - Stitcher
The Host:
Angie Cole - Contact - Call: 919-538-6477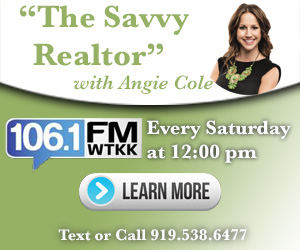 Show Transcription:
It's time for The Savvy Realtor Podcast. I'm Walter Storholt alongside Angie Cole the owner and broker in charge of A Cole Realty serving you throughout the Triangle teaching you about the ins and outs when it comes to buying or selling a home. You can find the team online by going to A Cole Realty dot com. That's A C-O-L-E Realty dot com or by calling 9 1 9 5 7 8 3 1 2 8. That's 9 1 9 5 7 8 3 1 2 8. And now it's time for one of the top realtors in the Triangle. Angie Cole and The Savvy Realtor Podcast.
Angie in this segment we want to help folks just start the selling process maybe whatever reason maybe your family's growing maybe there's a job change maybe you're downsizing maybe you've been in that big home and you want a smaller home that's a little easier to manage less backyard for whatever the reason we want to help you start the process of selling a home. So you've decided we want to sell you've made that crucial maybe first step there. And now the answer is Where do you start. So we've come up with this list and the very first thing we would encourage you to do after saying hey we want to sell is find a real estate agent.
Most definitely. You know I actually I met with a For Sale By Owner this past week and they tried to go the route of listing on their own and it was funny that one of the very first things that they stated to me they said you know what we really quickly realized in this market that people don't like us when we have our home listed as a for sale by owner and I said What do you mean. They said you know it's just not as common in this area. And it just really sets people back like they're not open to engage in in conversation. You know we just we really realize that people want to work with a real estate agent and they want to make sure that the seller is being represented by a real estate agent and because it shows that you know the seller is motivated to sell right they're going to take the advice of an expert and they also are not going to be as probably difficult to deal with throughout the process and unrealistic. As far as pricing goes so finding a real estate is definitely number one. You know when looking for a real estate agent you want to make sure that someone that you can trust you know someone that communicates effectively and also has the experience and savvy ness love how he through and savvy right.
So what we did there and how to navigate you through the process you know when I met with these for sale by owners you know they unfortunately they had their home and I won't even tell you the kind of range they were in but so overpriced by almost double the amount of where we should really travel listed. You know but I came in there and I did my job and I educated them and I was honest with them. So you want to make sure that you have a real estate agent that not only you know communicates effectively and is going to do an amazing job for you but they tell you the truth right. You want them to be open minded. You want them to be real with you because if they don't they're just doing you disservice you're only going to be frustrated and irritated with them in the end. So no one step is find a real estate agent which of course Angie call with a reality. We would love to be your real estate agent of course of course.
And if you have questions about that if you just want to get a little bit of information from engine the team you can call or text 9 1 9 5 3 8 6 4 7 7 just shoot him over a message. Now step number two you've decided you want to sell him you've found your realtor. Now it's time to estimate your home's value. That's different than setting the listing price. We'll get to that in a second. But before you can set that list price you have to figure out what your home is worth.
Yeah. Yeah. And the way that we go about doing that. So first of all you should have had the real estate agent who is giving you guidance on this because you know everyone feels like their homes worth way more than what it's truly valued at. Unfortunately you know but sometimes we can be it can be a pleasant surprise and we can give you some good numbers but when we estimate your home's value that's where we pull together comparables and you know when I do it I'm doing exactly what an appraiser would do. So I'm looking at homes within your neighborhood or nearby. We then will look at similar square footage similar age and similar style. I'd then never go more than a year in close sales. Reason being again we have to look at real time data. So from there I will walk you through the comparables. I'm going to show you or explain to you all about the condition about the into your features how it directly relates to your home. What are their differences what are the pros what are the cons from there we can estimate the value of your home and that's definitely normally most people. That's where they want to get started and that's okay. That's kind of the most important thing to you is estimated the value of your home before you even want to speak with an agent.
You want to know well what is my home worth. And we have a great feature that we would love to share with you. And it's a home evaluator. So if you are thinking about selling your home and you want to get an idea of what your home is worth in today's market you can do that from your smart phone. So just text the word listing to the phone number 5 5 5 8 8 8. So once again on your smartphone if you're thinking about selling your home and you want to get an idea of what your home is worth. We were just on step number two estimating your home's value just text the word listing to the phone number 5 5 5 8 8 8. And from there Don't stop. You must. What's going to happen is our team we're going to send you back a tax with a link. We need you to click that link and input your dress. So from there we can give you an idea of what your home is worth. So once again just text the word listing to the phone number 5 5 5 8 8 8.
That's the word listing to the phone number 5 5 5 8 8 8. Just put that word listing right there in the message field send it to the number 5 5 5 8 8 8. Angie and the team will send you back a link. You can input in your information. We'll go to that link of course put in your information and you can find out what your home is worth. You can do that before really any of these steps honestly of course we're going through the list and it's step number two but you can do that before even reaching out to an agent. Just put in the word listing to the phone number 5 5 5 8 8 8 send it to that number. Find out what your home is worth. Text the word listing to 5 5 5 8 8 8. All right. We've decided we want to sell. We've found an agent we've estimated our home's value. Now it is time to set the list price of your home. This one's really important.
Yes yes super important because we want to make sure that we price it and set that list price exactly right and definitely make sure that you're leaning on the guidance of your agent because that's our job right. We have the expertise in knowing and guiding you on the right list price. You want to make sure when you list your home you or list the price of your home. You don't overpriced it because if you end up overpricing your home you will end up chasing the market. So what that means is your home will sit on the market longer see your days on the market will increase and then we would need to come to you and say OK we're not seeing great traffic we now going to make a price reduction then another price reduction that's called chasing the market. And in the long run if you overpriced your home from the beginning long term you actually will make less net than if you would have priced it right just right out of the gate. We also we don't want to under your home either. You know some people think well should we kind of play the market and underpriced my home. So then I'll get a lot of showings I'll get multiple offers and we'll go well above list price. Well you're not. What if that doesn't happen. What if we don't get sensible offers more than likely that one offer you get will want to negotiate with you. You can't expect to get above list price if you have one buyer on the table right. So pricing your home right. Right. As soon as we get active on the market because that's when it's getting the most exposure it's hitting all the automated searches it's getting blasted all over social media. MLS realtor dot com Zillow you know we want to make sure that we are setting the list price correctly for your home and that's once again where US echo realty we come into place with educating you on your list price.
Yeah I think this one is huge. Of course everybody wants to get the most bang for their buck. Everybody wants to sell and get that half a million dollars sale. But you have to be realistic. It all just depends on where your home's located how big it is all these different factors that go into play and that's really why we encourage you before you even set that list price to find out the value of your home and then stick to that meat set accurate expectations along the way. One more time you can text the word listing to 5 5 5 8 8 8 if you want to get an idea of what your home is worth. That's the word listing to 5 5 5 8 8 8. So find out what it's worth. Stick to that set your list price. Be realistic. Once you've done that we're on to the next step of marketing your home and marketing your home is. Well it's also just incredibly important your strategy is huge there. You want to work with a realtor who knows what it takes to successfully get a home market and we talked earlier about that realtor who did all these wacky listing strategies but it really is it's important to stay up to date on social media and what not to get your home successful market.
Yeah most definitely. So we're going to be marketing your home throughout the process and as we do that we're also going to be preparing our homes for sale. That could mean a lot of different things depending on the condition of your home. What should that look like Angie Yamma is definitely.
So that's part of our process when it comes to kind of our preliminary marketing plan for you and that is bring in our stage or through right. So we have an amazing Stager and Amber with stage presence and her job and her role is to come through. She'll go room to room. She'll take note. She'll e-mail those to you and their suggestions. Now there are amazing suggestions. So we ask ourselves do as much as possible because she truly knows what is needed and what type of changes improvements what type of general freshening is needed to the home in order to get it market ready to get it. Show he said that the pictures will look fabulous and people can really vision themselves as they are touring your home to potentially be the buyer right the new homeowner of your home. So we get our professional Stager in there to give you guidance. You know there's always things like de cluttering D personalizing you know really. I always say it makes you feel like you don't even live in the home. Whenever you are getting it market ready. But you know what. That's what gets it gets the home sold. So you know making sure that you prepare your home before we go live in on the market is very very important and that's why we have our professional Stager that will come through to give you that feedback that you need.
Always important to stage your home. I think that's something folks sometimes neglect if they're not careful. Yeah I mean some of the photos you see online are just no no.
It's all list is so bad you know. But you need to remember you know probably and I don't know the exact percentage right now but I bet around 98 percent of buyers are finding their home online. The Internet is what selling homes marketing on the Internet. And when buyers are looking for a home they are just thumbing through those pictures right. And if the pictures don't show great they go on to the next home. So making sure that your home visually shows well is very important in order to get that traffic. It's good because we need showings to get you an offer. So make sure that you do take the feedback in the guidance from the stager. Do those items do that checklist to get your home show ready and prepare it for the market.
Now assuming you've done all these steps you're probably going to get some offers on your home and you need to negotiate a little bit find the best offer don't just settle for the first one that comes through the door. What does that process look like.
Angie Sure sure. One thing I always tell myself is it's not 100 percent. Not always this way but typically your first offer is your best offer. And I say that because normally the first offer that comes in means your home's been on the market the least amount of days. So then if there was if we rejected that first offer the second offer that comes in could be 10 or 15 days later Well now your home set on the market longer. And so buyers and they only feel that your home must be overpriced or it would be sold. So typically the first offer would be your best offer now not always. But you know that's something that we need to negotiate. For example yesterday I was negotiating with one of my sellers and we gave one response to the buyer on the opposite side. They came back they countered us my sellers then said OK accept and I said Oh no no no we're not accepting it. Nope. And she's like OK you know we'll take your guidance and I said let me get you a couple more thousand went back and then the buyer accepted. Right. And so it's really you know you really need to have the confidence to be able to depend on your real estate agent to negotiate on your behalf.
You know it's important to know when you should give a little or maybe when you should stand your ground. Right. You want it I mean money is something you want to keep in your pocket. So you need. No you know when to wiggle when not to wiggle communication and you know timeliness of a response is very important during this process as well. I have seen deals that have completely just went south because a seller was dragging their feet. Wow. And so what that means is you receive an offer but you're trying to almost play the system. You want to hold out for better offer as well. Right. Remember at any point that buyer can pull back their offer and now you have nothing on the table. But once again I give you guidance right our team gives you guidance on what we know. When do we need to respond. Let's keep this conversation going but just be careful on dragging out the process too long of the negotiations because it can really really hurt you and then you end up with no offers. Remember also to evaluate the offers be on just the bottom line dollars so what that means is maybe we have a home that's listed at two hundred and fifty thousand you know and you get an offer that's two hundred and fifty thousand.
Well what if after we go through the contract we see that there is one hundred and twenty day closing date. They're offering no due diligence. They also want ten thousand dollars in closing costs. So we thought it was a full price asking offer right. But oh that's not such a great caveats attached. Yes. Yes. So there's more that comes along with just looking at you know the price or just kind of like you know the dollar amount you know is their personal property they're asking for you know what's the due diligence timeline. What's our closing date. What type of good faith are they putting up front. You know how about funding. As far as financing goes what are their loan terms. You know so there's a lot that comes along with negotiating the offers and you know once again as aco reality as we are representing you we will give you that guidance to make sure that you are you know getting the top value for your home and you're moving forward with the best terms an offer that would work for you and your situation now and you want your home goes under contract you've accepted an offer and a lot of ways lot of those same principles apply right you have to stay sharp throughout that process.
I think a lot of folks take a deep breath and say All right the sale is done but it's not done until it closes and there's a lot that happens between contract and closing date. Yeah you've got to stay sharp throughout that process.
You're most definitely right now. We always tell ourselves we never want to see sellers and buyers but you know let's not be anxious OK. That's our job to take control of the process and to make it seamless and easy for you. But do remember that although we've just negotiated a price so you know where your bottom net currently is at that you're not done. So what that means is typically the buyers will do their due diligence. They'll more than likely order a home inspection a pest or termite inspection. They'll just do what ever they need to do with moving forward with your home. But at that time even though the North Carolina offer to purchase reads at a home's being sold as is it's kind of understood that both buyers and sellers will be reasonable when it comes to repairs being made. So we're negotiating again. Right. And so that's why we're saying you know don't ease up right before the closing we're not quite done because we need to get through that due diligence process. You know a lot of people take a deep breath once a home goes on a contract like you mentioned and they just think OK we're finished but you know buyers have the opportunity to walk at any time hope right. They don't. But we want to make sure that we are responding again in a timely manner. We're keeping the process moving forward. And you know that's where our team comes into play as far as negotiating again for you you and your best interests to make sure that we then can get to that closing table once you're at the closing table the final step of course and maybe the most important of all of them.
Celebrate. Enjoy it. Have fun. Congratulations. You have made it through the selling process and hopefully your agent has helped you to navigate the ins and outs of that process along the way. And that's really why Angie Cole and the team and echo realty are here to help you through that process. The art of negotiating we talked about then all the strategy that goes into marketing your home helping you set realistic expectations and then just communicating with you along the way. Anything that comes up anything unforeseen they want to be there for you. If you're looking to sell and you want to start that process like we said it all starts with finding an agent. All you have to do is reach out to Angie and the team and a call realty by calling or texting 9 1 9 5 3 8 6 4 7 7 that's 9 1 9 5 3 8 6 4 7 7 you can call or text that number get answers to some of your questions and just start that process of selling your home or buying.
As far as that goes we talked about that a lot on the show as well so you can call or text reach out to a realty call or text 9 1 9 5 3 8 6 4 7 7. This is the seventh realtor NGO
It's time for the mailbag. We want to hear from you
Trish who is in Holly Springs she writes and says How big of a deal is it to buy a home in a good school district.
Well it hurt my resale value down the line. I don't have kids personally so it's not an immediate concern. But this won't be my last home either so I'll likely sell in a few years.
Yeah. You know trash it is important. You know you have to remember that school districts they really have. There's a there's a direct correlation between the school districts and the prices of homes. Right. And the reason being is supply and demand. Because if there's a lot of families trying to be in a specific school district because maybe there's high ratings of course there's going to be this rush to buy the homes in that surrounding area where that's the base school. And so that's going to drive the price up. So you will typically find that in a particular area where there are well-known schools you know that rank higher the pricing of the homes will be more expensive. So is it something to think about. It is. But you have to remember too that you know it doesn't mean that someone will you know what comes a reselling by the home that you're in because maybe it's not a top rated school because maybe that's not as important for the next buyer or maybe you know at a higher price point isn't feasible for the next buyer. So it's something to think about but it's not the end all be all right just like you. The school districts aren't important right now because you haven't got to that point where you have children and you're thinking about what school do I send them to.
For some buyers we work with. That's a must. You know as far as top rated schools or I need to be in this specific school district but that's not a must for you for everyone and you know. So I know that you're at the point of you know thinking about buying a home and so but remember every home again will sell at the right price so I'm assuming the home that you're interested in buying. You need to make sure that you just pay fair market value for it. And so at that point as long as you do you don't have to worry about future resale and really how that directly corresponds with the school district. So Trish you know it sounds like like I mentioned you're looking to buy a home and we would love to share with you what's called our home buying guide. The whole point of the guide is just to walk you through the steps from start to finish. Take you through just everything along the way just to make sure that there's no surprises and you're well aware of the process you've been listening to the savvy real tour podcast.
I'm Walter store Holt alongside Angie Cole. She's the owner and broker in charge of ACO realty here in the Triangle and if you have questions for Angie we invite you to go online to a cold realty dot com. Listen to past podcast episodes on the Web site read the blog and all the great information including the option to find a home right there on the Web site. That's a cool real T dot com and you can also call ante with your questions. 9 1 9 5 7 8 31 28.
Sonix accurately transcribed the audio file, "PODCAST 044 - THE STEPS TO SELLING - ANGIE COLE.mp3" , using cutting-edge AI. Get a near-perfect transcript in minutes, not hours or days when you use Sonix. Sonix is the industry-leading audio-to-text converter. Signing up for a free trial is easy.
For audio files (such as "PODCAST 044 - THE STEPS TO SELLING - ANGIE COLE.mp3"), thousands of researchers and podcasters use Sonix to automatically transcribe mp3 their audio files. Easily convert your mp3 file to text or docx to make your media content more accessible to listeners.
Best audio transcription software: Sonix
Researching what is "the best audio transcription software" can be a little overwhelming. There are a lot of different solutions. If you are looking for a great way to convert mp3 to text , we think that you should try Sonix. They use the latest AI technology to transcribe your audio and are one my favorite pieces of online software.