Episode #16: Time To De-Stress
Posted by Angie Cole on Thursday, November 1, 2018 at 5:00 AM
By Angie Cole / November 1, 2018
Comment

The Savvy Synopsis
De-stress with us, and discover how to make the home buying process less stressful. We'll also take your questions on narrowing your home search, finding a home that fits your lifestyle, and selling your home for a profit.
Time To De-stress.
19:45 - Buying a house is one of the most stressful events you can go through. In fact, studies show many of you assume it's going to be stressful before you even get started.
21:20 - To make the process less stressful, understand it. Work with your realtor and get them to explain their entire plan for selling your home. From buying to closing, you should know what's happening every step of the way.
We've actually developed a buying guide to lead you through your home buying process. Download it here.
23:45 - Stay ahead of deadlines to make the process less stressful. Maintain strong contact with your realtor as well as your lender. Meeting deadlines and having paperwork ready when asked will go a long way toward keeping your anxiety away.
25:48 - Stress comes from letting your expectations run wild. There's no point in looking at homes you can't afford to buy. Pricing yourself out of your budget will only up your anxiety as you move through the process. Start the process by getting pre-qualified or pre-approved for a mortgage. Once you know what you can afford, you can narrow your search and manage your stress.
Mailbag.
4:03 - Maxine says "I thought I'd start my search online. I put in some of the items on my wishlist, and I guess I didn't narrow it down enough. I'm overwhelmed with choices. Am I not being picky enough? What else can I do to narrow down the search? I don't want to eliminate good homes by just arbitrarily setting minimums for bathrooms and bedrooms and that kind of thing."
Answer: This is opposite of the problem most people have in our current market. Most people are too picky and unable to find exactly what they're looking for. However, being too general will indeed leave you with too many options. First, we suggest focusing on the location you want to live. From there, begin to narrow down your search by your price range. You can also narrow your search by style. If you make a list of things you need in a house, you'll quickly begin to narrow your search.
7:28 - Stephen in Holly Springs asks "Our family is moving to the area soon. We want to buy in an area that has a good school system for our three boys, but we also want room to move around. We're very active outdoors and want enough space to play football, basketball, other activities. We'd like something on at least an acre. Any suggestions on where we should focus?"
Answer: You might need to head toward the city limits or even just outside the city limits. Land is hard to find in the Triangle, depending upon your budget. You'll typically be able to find more for your money just outside the city limits. Unfortunately, we can't give guidance on school systems, but we can direct you to the school system websites. It's great to maybe start there. You can get the ratings of the school on the county's website. Furthermore, depending on your price point, you might consider sending your kids to a private school in the area. Using your budget and those websites to your advantage, you can determine which area and school system will best fit your kids' needs.
10:39 - Carl in Cary writes in and says "We moved to the area only a couple of years ago and weren't really thinking of selling, but based on how other homes in our neigbhood are selling, I think we could make a huge profit on the home, if we were to go ahead and pull the trigger on the sale. I bet it is appreciated by at least a hundred thousand dollars. Is now the time to pull the trigger, or should we see if we can ride the market even higher?"
Answer: Now is absolutely the time to sell. We're in a seller's market, and if you're planning to buy another home, interest rates are still really low. At some point, we're going to reach the top of the market, but we don't know when that will be. It's better to take advantage of the current market while it's still booming.
The Neighborhood Spotlight.
13:00 - This week we journey to Highland Creek in Raleigh.

This neighborhood sits just north of 540. Take Exit 18 off of 540, take 401 Louisburg Road, and take a left onto Leeland Road. This is the main entrance.
Just outside of this neighborhood sits all sorts of commercial development. It's a great area to be in for shopping, dining, and other entertainment.
Homes in this neighborhood are selling quickly. They've sold 119 homes in the last year.
This neighborhood is comprised of townhomes and single-family homes.
The townhomes range from $150,000 to $250,000 in price.
The single-family homes range from $225,000 to $360,000 in price.
Single-family home size: 1,800 to 3,800 square feet.
This neighborhood features, walking trails, a clubhouse with a pool, and soccer fields. They also engage in community events.
Get In Touch:
More From Angie:
Download The Home Buying Guide HERE!
The host: Angie - Contact - Call: 919-538-6477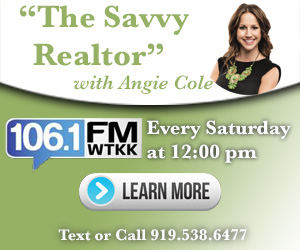 Subscribe To The "Savvy Realtor" Podcast: