Episode #17: Mailbag - Detecting Mold, Escrow Accounts, and Rising Home Values
Posted by Angie Cole on Thursday, November 8, 2018 at 5:00 AM
By Angie Cole / November 8, 2018
Comment
The Savvy Synopsis
In an all-mailbag addition of the podcast, we'll feature your questions on detecting mold, opening escrow accounts, and learning about the value of your home.
Featured Foundations:
Mailbag.
1:54 - Spencer wants to know whether a home he's looking to buy might have a mold issue.
Answer: Sometimes, mold is fairly obvious, but other times, it can be tricky to spot. Remember, not all mold is as dangerous as other molds. If it's in the shower, you're probably going to be fine, but especially if it's from high humidity areas in the house, it can be dangerous. Mold that's been trapped in your home can cause lung cancer and all kinds of other health issues. Your home inspector should pick up on a mold problem in the house, and they should list it on their report. They would then recommend you work with a mold specialist before taking further action.
4:35 - Shawn in Clayton says "I have an Escrow account to go along with my mortgage where the tax and insurance fees are collected each month. My friend just told me that he's never had an escrow account. Why do I have one and he doesn't? Does it make a big difference in the grand scheme of things?"
Answer: Honestly, Shawn this is a way for the banks to make more money. As an example, if you have $3,000 that is put into escrow on a yearly basis, that money is sitting there, and the bank is collecting the interest off of the money sitting there. In fact, many banks will charge you if you don't set up an escrow account because they still want to get there money. While they can certainly be frustrating, they also present you with the opportunity to slowly save and avoid a giant tax bill at the end of the year.
8:44 - Milly says the homes in her neighborhood are selling way above what she paid for her home years ago. She wants to know whether her home has increased in value like her neighbor's.
Answer: It's more than likely your home has indeed appreciated in value. Certain neighborhoods in the area appreciate more than others, and your neighborhood could fall into that category. To confirm your suspicion, you should be sure to speak with a professional. Your realtor will be able to show you comparables to other homes in your area and help you determine whether it's a good time to sell.
17:43 - North in Wake Forest wants to know whether green features in a home will actually help resale value.
Answer: Having green features is a bit like owning a pool. Certain buyers are going to care a lot about what kinds of materials were used in the home. Others won't think it's as big a deal. Furthermore, many green features are starting to become standard for all homes, so they're not really a special addition. While these features will improve your home, they probably won't add a lot of value.
19:33 - Katherine wants to know the hotest areas to buy at the moment. She's interested in real estate investing.
Answer: Downtown areas are certainly the place to be right now. You'll see investors buying homes, renovating them, and flipping them because of their prime location. College towns also tend to see a lot of appreciation. If you're thinking about places to invest, look for areas of town that are all about lifestyle. Look for places with shopping, restaurants, and prime nightlife.
22:01 - Gracie read an article that suggested you should spend a lot on staging your home. She wants to know how much to budget for staging.
Answer: Work with a realtor who partners with a professional stager. A professional can help you make your home pop. However, if your home is vacant, it can be incredibly expensive to do so. It's probably wiser to hire a professional stager to work with your existing furniture.
The Neighborhood Spotlight.
12:32 - Join us as we travel to Weston Corners in Morrisville.

This neighborhood is located right on the border of Cary and Morrisville. It actually feeds into the Cary school systems, and it's right off of Harrison Avenue and the intersection of Weston Parkway and Chapel Hill Road.
This neighborhood is right down the road from Prestonwood Country Club. It's a convenient commute to RTP and is near all sorts of shopping and dining areas.
Weston Corners is a brand new neighborhood. There are a total of 35 two and three bedroom townhomes that are being built.
These are considered to be luxury townhomes with hardwood floors, granite countertops, and two car garages.
The townhomes range from $280,000 to $330,000 in price.
Size: 1,837 to 2,178 square feet.
Get In Touch:
More From Angie:
Download The Home Buying Guide HERE!
The host: Angie - Contact - Call: 919-538-6477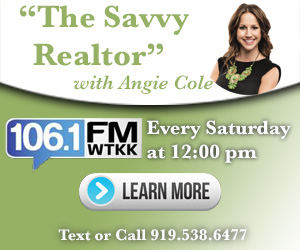 Subscribe To The "Savvy Realtor" Podcast:
Show Transcription: