Episode #18: Real Estate Challenges
Posted by Angie Cole on Thursday, November 15, 2018 at 5:00 AM
By Angie Cole / November 15, 2018
Comment

The Savvy Synopsis
You're sure to encounter all sorts of real estate challenges during the buying and selling process. Angie shares with us some of the problems she's helped clients to solve.
Featured Foundations:
Real Estate Challenges.
00:37 - Smelly Homes are tricky to navigate. Of course, you wouldn't want to hurt your seller's feelings, but you need to be honest as well. We typically recommend you try to locate the source of the smell and then eliminate the odor. No, we're not telling you to ditch your pets. However, if your pet is causing your home to stink, you might want to consider sending it to a relative's home during the selling process. We'd also encourage you to scrub your home and get it squeaky clean to eliminate odors. Steam cleaning your carpets will help with the smell. Furthermore, take your funky plants outside, and take a break from cooking any smelly foods while selling your home. You also won't want to mask any odors with heavy air fresheners. Usually, this tends to make the smell even worse. Smelly homes are challenging, but with proper cleaning and de-cluttering, you can eliminate the odor.
5:12 - Vacant homes can also present a problem when selling your home. Without furniture, it's difficult to conceptualize what a space would look like, so we'll often encourage sellers to find a piece or two of furniture just to set the space for potential buyers. There's no need to keep your home fully furnished, but a few items here and there can really help your home to stand out.
9:25 - Selling your home as a family presents its challenges. If you have several kids, your home is bound to be cluttered with toys scattered across the house. This is when it's really important to get your home organized. Work to de-clutter and put as many of the toys away as you can. You want you home to look more minimalistic during the showing process.
Mailbag.
14:44 - Porter asks how to determine what to offer on a home. He also wants to know when it's appropriate to negotiage with a seller.
Answer: Porter, the first thing you should determine is how long the home has been on the market. If the home has just hit the market, you probably need to make a strong offer at asking price or even above. Work with your realtor to determine whether there are other offers on the table. If you're the only offer out there, you might have some wiggle room, but if others have offered, you might be competing to get the house. Your realtor should also be able to show you comparables as well. If the house you're thinking of buying is much pricier than other homes in the neighborhood, you might be able to negotiate a bit. Finally, let's circle back to how long the home has been on the market. If the house has been up for sale for a long time, you might have some wiggle room to negotiate. The owner will really want to get their house sold, so they might be willing to lower their asking price.
The Neighborhood Spotlight.
17:15 - This week we feature Mulberry Park in Raleigh.

Mulberry Park is tucked right behind Brier Creek off of Acc Boulevard.
Brier Creek is a popular area for going shopping, eating out, going to the movies, and engaging in local nightlife. It's also close to Crabtree Valley Mall and Raleigh-Durham International Airport. Brier Creek is one of those areas where everything you need is within a few minutes of your house.
Mulberry Park consists solely of townhomes with one and two car garages.
The townhomes range from $200,000 to $250,000 in price.
Size: 1,600 to 1,900 square feet.
Get In Touch:
More From Angie:
Download The Home Buying Guide HERE!
The host: Angie - Contact - Call: 919-538-6477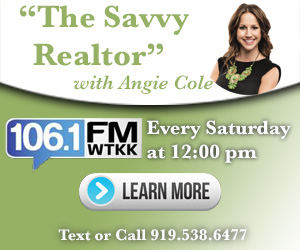 Subscribe To The "Savvy Realtor" Podcast:
Show Transcription: