Episode #25: Top Real Estate Fears
Posted by Angie Cole on Thursday, January 3, 2019 at 2:00 PM
By Angie Cole / January 3, 2019
Comment

The Savvy Synopsis
A recent realtor.com article outlined your top real estate fears as buyers and sellers. We'll outline each one and help you try to overcome them.
Download this episode (right click and save)
Top Real Estate Fears.
1:01 - Buyers worry they won't be able to afford their ideal home.
2:45 - Sellers worry their home's low selling price won't reflect it's real value.
3:05 - As a seller, you need to set realistic expecations. Your home is ultimately only worth what someone is willing to pay for it.
4:30 - Buyers are afraid they'll buy the wrong home and not like their home.
4:55 - Most buyer's remorse occurs after they've gone under contract. Buyer's fear they've made the wrong decision. Usually, these fears are unfounded.
Neighborhood Spotlight.
8:45 - Join us as we venture to Durant Trails in North Raleigh.
Durant Trails is located off of Durant Road near the intersection of Durant Road and Falls Of Neuse Road.
It features great walking trails as well as a neighborhood pool and tennis courts.
Durant Trails is near all sorts of shopping areas including Lafayette Village.
This neighborhood features many homes that have recently been updated or remodeled.
Home Size: 1,200 Square Feet - 3,500 Square Feet.
Price Range: High $200s - Low $400s.
Mailbag.
14:36 - Art is trying to downsize, and he'd like to move within the next year. He wants to know when to start the process.
Get In Touch:
More From Angie:
The host: Angie - Contact - Call: 919-538-6477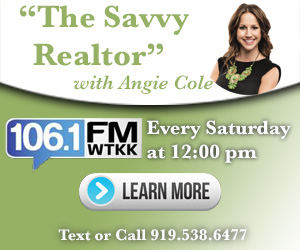 Subscribe To The "Savvy Realtor" Podcast:
Show Transcription:
It's time for The Savvy Realtor Podcast. I'm Walter Storholt also alongside Angie Cole the owner and broker in charge of A Cole Realty serving you throughout the Triangle teaching you about the ins and outs when it comes to buying or selling a home. You can find the team online by going to A Cole Realty dot com that's A C-O-L-E Realty dot com or by calling 9 1 9 5 7 8 3 1 2 8 that's 9 1 9 5 7 8 3 1 2 8. And now it's time for one of the top realtors in the Triangle. Angie Cole and The Savvy Realtor podcast.
Angie I wanna talk to you about some of the top real estate fears that people have when it comes to buying and selling homes and I want to see if you agree with these fears if they are reasons to worry but also how you help everyday folks overcome these kinds of things because I know that that's probably part of your job is how do people feel comfortable in the process. Most definitely. So let's say we're gonna flip flop we'll go buyer fear and then a seller fear so nobody gets left out here often buyers worry that they can't afford their ideal home. Do you see that and is that a realistic fear.
No I don't see it often but sometimes I do see where buyers can get a little bit lost or kind of overwhelmed because they start looking at homes that are not within their ideal budget. So you know whenever it's time to start looking for a home make sure you take the step first to call Angie call first to speak with me but then from there will connect you with a great lender and it's very important to speak with a lender if you are getting financing to understand you know the price range you should search within because I have seen where some buyers will start off at a lofty number as far as a price point only to find out that they do not feel comfortable or they cannot get approved for that number. And then they have to reduce their budget. So then it can be kind of upsetting you now because of course a home of higher value is going to have more bells and whistles. So that is just kind of a let down whenever you have to drop that price point so you know I don't see that one a lot. I often see more times than not where people are actually pleasantly surprised. A lot of times I see you know buyers are like Oh I'm not going to be able to afford what I want. And then they speak with a lender like Wow they actually can you know. So you know I've seen it sometimes where they can't afford their ideal home. But most times I see where buyers are pleasantly surprise and they can a lot of that comes down to expectation.
Yeah I suppose. And keeping those either in check or getting them adjusted can certainly help assuage that fear. Exactly I think the fear there is the unknown.
Yes I go out and get the information and eliminates that when you go the lender first and then start your home start.
That's a good really good suggestion. All right let's flip over to the selling side. Another major fear that I feel is often reflected is that sellers worry the sales price will be too low and won't reflect the home's real value.
This one is true. I see this time and time again. But remember sellers that the real value is what the buyers in this market are willing to pay for your home. So once again talking about unrealistic expectations you know in your mind your home might be worth a certain dollar amount but if no one's willing to pay that amount for the home Well clearly you are overpriced right. You know. So you know to understand what your home is worth it's great to speak with a real estate professional now so they can share comparables with you so you can see what other homes are going for in your area because that is what your home is worth. So if you are thinking about selling and you want to get an idea of what your home is worth in today's market we would love to be that resource for you. You can text the word listing to the phone number 5 5 5 8 8 8. So once again if you're thinking about selling and you want to get an idea of what your home is worth. Just text the word listing to the phone number by 5 5 8 8 8. Make sure you don't stop there though. We will respond back with a tax. And with a link make sure you click that link and then input your physical address. And from there we can give you an idea of what your home is worth in today's market.
Again all you have to do is text the word listing to the number 5 5 5 8 8 8 so from your smartphone. L.A. s t i n g. Listing text that to the number 5 5 5 8 8 8. And you can find out that potential home value in today's market right there from your phone. It takes like 30 seconds to do that so it doesn't take a very long time to send that text and put in that information. Another top worry in the real estate world is from buyers who are afraid they'll buy a home that they won't end up liking in the long run. Sounds like a silly fear but I think it's actually.
I've definitely had that the two times I've bought a home. There's that worry that. And it's not just the buying process but even the couple of weeks after there's maybe buyer's remorse it enters the equation somehow. You've got to kind of battle through that.
Yeah I mean I've seen where this has been a legit worry or concern. I tip see though if buyers have that buyer's remorse it's immediate you know and I've we've had transactions that either we represented the buyer or we represented the seller and that buyer who made the offer went under a contract decides to back out. I typically see that really quickly. It is within the first week they go under contract and they say we've made the wrong decision. Maybe it's at the top of our budget. Maybe this wasn't a smart purchase. Maybe you know actually you know what we don't love that home. We just felt pressure to make an offer because the market is moving so quickly and we didn't give it enough thought. So you know I've never asked I'm going to take us back. I've had one instance where someone has come to us because they just did not love their home. We didn't represent them when they bought the home though they approached us about selling and it wasn't that they dislike their home they just decide they didn't like the area and they wanted to be back towards where they just felt familiar. So I've seen that happen once but yeah you know as far as that buyer's remorse or not liking the home that you just purchased. Typically I think you're going to feel that immediately as soon as you go under contract. I don't think it's something that years down the road all the sudden you're going to say oh I just hate our home because if you do then it's like OK let's make a move right. Because maybe your your lifestyle or your family has changed to make you now dislike the home. But I don't think it was just the home that you bought.
Yeah yeah I think that's a great point. Angie so keep that in mind if you're thinking about buying a home you know a lot of this we're talking about information is really arming yourself to eliminate some of these worries and these fears from the buying side. Angie I know you've put together an awesome guy that kind of walks you through the process of buying a home here in the Triangle what to be thinking about as you go through the process really great for first time homebuyers or if it's been a while since you've bought a home I know there was a lot I forgot in the six years between our two home purchases. So it's a great refresher of kind of what's going on right now what to be thinking about in the different steps of the process and we called the Home Buyers Guide.
Yeah sure thing. And just remember even though you've purchased a home in the past the North Carolina real estate commission makes changes to our contract offer to purchase on a yearly basis. And so it's good to be in the know of just current standards and processes as far as buying a home. So if you're thinking about buying a home whether you're a first time home buyer you're a repeat buyer. We would love to share with you our Home Buying Guide which just walks you through the steps of purchasing a home helps you to understand the terminology that's portent within those contract documents as well. And so to get a copy of our home buying guide you can text the word contract to the phone number by 5 5 8 8 8. So once again to get a copy of our Home Buying Guide which walks you through the steps in the processes of buying a home. Just text the word contract to the phone number 5 5 5 8 8 8 and that allow you to download that buying guide right to your phone.
All you have to do is send that text the word is contract send it to the number 555 8 8 8 click on the link to download the guide and view it on your smartphone. You can even email it to yourself for later viewing or reading on your computer at some other time as well. So it's very useful tool there. Find out the home buying process get a reminder and a refresher of what to expect.
Just download that guide by texting the word contract to 5 5 5 8 8 8. More to come on today's show. This is the savvy real tour with agent and she called. She and her team have helped about 600 people over the last three years by herself here in the area. Pretty cool. We'll tap into that expertise some more coming up on today's show. Stay tuned
Let's shine a little light on some of the Triangle's best areas right here on the neighborhood spotlight.
The neighborhood spotlight on the savvy real tour with Angie Cole your savvy real tour here in the triangle. I'm Walter store whole. Thanks for being alongside us this week. And Angie what's this week's spotlighted neighborhood Yaser.
This week's neighborhood spotlight is in North Raleigh and the neighborhood is called Durand trails. I thought we would focus on the neighborhood where we have our listening of the week so do Durand trails is right off of falls with the news and then off of Durant. So clearly that's how he gets his name right. But there are also great walking trails around there. So this is a neighborhood that has pool tennis. So lots to do within the neighborhood. It's very close to the shopping right there off of falls and Durant said there's a lot of restaurants right down the street also from Lafayette village. Yeah. Which is a really cool place.
I drove by here all the time. Yeah. Where you live now. This isn't too far from our neck of the woods so it's just a pretty little area up there.
Most definitely. It is a very mature neighborhood. So they started construction back in 1984. They completed around 2002. So it is a little bit of an older neighborhood but I love going in there and seeing the homes whenever people go through and they remodel a lot of the homes they've started kind of flipping them. So although they might be a bit older the interior is showing off the newness and you know just the newer up to date I guess color choices that a lot of us prefer a square footage right. Wise they range anywhere from around twelve hundred square feet up to about thirty five hundred square feet. They are single family homes.
So it's just sometimes hard to find in that north Raleigh area. Get a lot of like you know 5000 square feet homes up in that region.
You're exactly right. And this neighborhood is still reasonable as far as pricing goes as far as pricing. I mean homes are starting off still in like the lower three hundreds and you know once again that's tough to find in North Raleigh. So you know there's a range I'd say pay up or to hundreds to under 400000 to be in this neighborhood.
So once again our neighborhood spotlight is different trails in North Raleigh and some people don't view this maybe as a good feature of a neighborhood but it's really close to the dump. Not. No it's not like it's going to smell right but it's really convenient when you need to make trips to the dump as living a little bit further away from the dump but still within it being very close and being a new homeowner. Yeah. That's been awesome.
It's funny you say that my husband had to make a trip yesterday because someone forgot to take the trash to the road. Maybe me whenever he was out of town and that's normally his job. And I mean we're just overflowing especially with all of the Amazon Christmas gifts coming in the mail. I mean it's ridiculous how much recycling we have right now but yeah. So I guess it is a good feature but you know as long as it's not right next door We're good. Right.
When we bought our home up there I was like we're going to do a lot of renovating we've got a lot going on. I bought a trailer and it's been really fun learning how to use it and like I'm a real man.
Now I've got a trailer and I make for the down Ha ha. My folks are visiting and they live down at the coast right. That's like their Sunday routine. They always go to the dump every Sunday evening and then they walk on the beach on their way home. Yeah. They love going to the dump. I don't know what it is we always make fun of them about it and because they're just like I don't know it's just fun going to throwing stuff away and you know cleaning and it's just sort of our routine and the evening and then we take our walk and come home that's like serious adult thing and I never did that.
I know. Yeah. Raised for. Yeah. So you enjoy going to the dump.
He was helping me with the project and so we're like well we got to take some stuff for the dump. So we went to the dump and they were like Here a dump is amazing here. And that North Raleigh one is massive. It's like all these separate containers. That's I-40 like we would just hang out here all day and so not only them only them who who would have guessed that that's where we date night and a dump. Yes exactly. So. Well very cool.
That's a nice neighborhood there and again that is different trails if you'd like more information on this particular neighborhood or if you're looking to buy or sell here in the Triangle and you'd like to learn about other neighborhoods that might be a good fit for your price range and some of the things that you're looking to get out of a home and out of a neighborhood Reach Out to Angie Cole. She and her team are experts obviously throughout the Triangle know all the different good spots that might be a great fit for your living situation. Just pick up the phone. Give Angie a call again the number is 9 1 9 5 7 8 31 28. That's 9 1 9 5 7 8 3 1 2 8. And Angie just in case we have some new listeners here on the program you and your team offer this awesome tool particularly for sellers who are looking to sell their home in the near future where they can kind of find out a great starting point for where they might be able to sell their home from a price standpoint.
Yeah which I know most time is most important as far as you know. OK. What is the bottom line going to be. What is my home worth in today's market. So if you are thinking about selling your home it's as easy as taking out your smartphone and taxing the word listing to the phone number 5 5 5 8 8 8. And make sure you do not stop there because we will then respond back and send you a link. Make sure you click that link and you input your address and then from there we can give you an idea of what your home is worth. So once again if you're thinking about selling just text the word listing to the phone number. 5 5 5 8 8 8.
That's all you have to do.
Just pull out that smartphone send a message to the number 5 5 5 8 8 8 and the message is simply the word listing ally s t i n g. Listing text that 2 5 5 5 8 8 8. And find out the potential value of your home if you were to sell it in today's market. All right. Much more coming up on today's show. This is the savvy real story with Angie called on again
It's time for the mailbag. We want to hear from you
Art says My wife and I are trying to downsize and move closer to our adult children. While there's no rush we're hoping to move within the next year.
When should we begin the process of selling our home. All right so art starting off 20 19.
Thinking about you know selling the house and we have a lot of people in the arts exact same situation. So honestly it's never too soon to start that conversation. We always tell our future clients that if you're thinking about selling even in the next year if you're still 12 months out let's go and chat now. Reason being is everyone's home based on location and price point can take a different amount of time to sell. And so we might say hey if you're thinking about moving on this date list list your home here or we might say you know what let's hold off because you might be homeless because your home's going to fly off the market. Also it's very important for us to understand your current situation you know do you need a sell in order to buy your next home. Or would you prefer to go ahead and buy and then sell. So just starting that conversation now is important.
Just so we can give you some good guidance and feedback just so you make sure that you take the next appropriate steps when it comes to selling your home. You've been listening to the savvy real tour podcast. I'm Walter store Holt alongside Angie Cole. She's the owner and broker in charge of ACO realty here in the Triangle and if you have questions for Angie we invite you to go online to a call realty dot com. Listen to past podcast episodes on the Web site read the blog and all the great information including the option to find a home right there on the website. That's a call realty dot com and you can also call ante with your questions. 9 1 9 5 7 8 31 28.
The above audio transcript of "PODCAST 025 - TOP REAL ESTATE FEARS - ANGIE COLE.mp3" was transcribed by the best audio transcription service called Sonix. If you have to convert audio to text in 2019, then you should try Sonix. Transcribing audio files is painful. Sonix makes it fast, easy, and affordable. I love using Sonix to transcribe my audio files.