Episode #27: Top House Hunting Mistakes
Posted by Angie Cole on Thursday, January 17, 2019 at 5:00 AM
By Angie Cole / January 17, 2019
Comment

The Savvy Synopsis
We'll tackle the top house hunting mistakes you're making as you search for a home.
Download this episode (right click and save)
Real Estate Myth Busting.
00:39 - The real estate world is complicated, and if you're not careful, you'll make several mistakes as you're hunting for your next house.
1:07 - If you're not getting a mortgage pre-approval, you're hurting yourself. Without a pre-approval letter, you can't make an offer on a home.
3:52 - We're in a competitive market here in the Triangle. It's a seller's market which basically means there aren't many homes to choose from. If you're waiting to take a look, don't. If you're not careful, somebody else might beat you to it.
6:14 - When you're viewing a home, beware of sparkly new features. It's easy to look at the glitzy counter tops, but you need to focus on the overall condition of the home as well.
7:37 - You're never going to have the perfect house. It doesn't matter if you have millions of dollars to spend. It's nearly impossible to find the absolutely perfect home. Instead of searching in vain for perfection, make a list, and determine what's most important to you.
Neighborhood Spotlight.
13:57 - Join us for a quick trip to 5401 North in Raleigh.
To get to this neighborhood, take I-540 Exit 18. That's Louisburg Rd (Hwy 401). From there, turn right on Market Avenue, and then take another right onto Perry Creek Road.
This is a newly developed community. It's filled with new build townhomes and single-family homes. It's got all sorts of housing options to choose from.
Price Range: $240,000 - $500,000 +.
Mailbag.
17:49 - Sophy's husband has a "genius" idea to install a gym into the home they're about to sell. She wants to know whether this is a good idea.
Get In Touch:
More From Angie:
The host: Angie - Contact - Call: 919-538-6477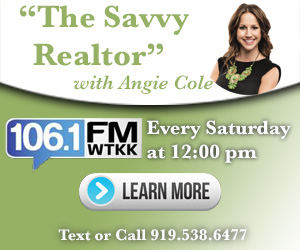 Subscribe To The "Savvy Realtor" Podcast:
Show Transcription:
It's time for The Savvy Realtor podcast. I'm Walter Storholt alongside Angie Cole the owner and broker in charge of A Cole Realty serving you throughout the Triangle teaching you about the ins and outs when it comes to buying or selling a home. You can find the team online by going to A Cole Realty dot com that's A C-O-L-E Realty dot com or by calling 9 1 9 5 7 8 3 1 2 8 that's 9 1 9 5 7 8 3 1 2 8. And now it's time fo r one of the top realtors in the Triangle. Angie Cole and The Savvy Realtor podcast...We're going talk on today's show about some of the top house hunting mistakes that get made. And I think Angie a lot of mistakes in general get made in the real estate world because there's so many twists and turns throughout the process.
Kind of easy to understand why people make wrong moves if they're not getting proper guidance. Sometimes those mistakes occur right out of the gate and what we like to call the house hunting phase want to take a look at some of the top mistakes and give you some tips on how to avoid them. Angie we'll kind of fill in the gaps for us here. Angie one mistake I'm sure that you see people making all the time right out of the gate is they don't armed themselves with a mortgage preapproval. What is that why is that a mistake.
Yeah we we honestly we see this all the time especially when an Internet inquiry comes in. People are like well we just want to see them. You know we don't we don't want to go down the steps up having our credit poor getting a preapproval. But the problem that we run into is we're happy to open the home up for you but you might actually fall in love with that home. We have very often we've sold a home to a buyer aware that was the only home that they viewed. But if you're not armed with a preapproval letter or prequel letter you are unable to make an offer. Most sellers will not accept an offer unless you hand over that prequel preapproval letter or proof of funds showing that you are financially able to buy that home. And so if we do not have that available you are unable to make an offer and then you risk the loss of losing out on the home that you love. It's also very important to make sure that you have your preapproval prequel letter because we want to make sure that we are searching within your price range. You know it's important to know. All right. How much can you get qualified for but also where do you feel comfortable with the monthly mortgage payments.
I say this all the time. You know even if you can buy a five hundred thousand dollar home but you feel comfortable with the mortgage payment of a three hundred thousand dollar home we need to then lower our price range and make sure that we're searching within the price bracket that you feel comfortable. So it is definitely most important to make sure that you get your prequel or preapproval letter so you are armed with that. So when you do find a perfect home you can be ready to jump on that hand and make your offer. So a great way to go ahead and get pre qualified is by downloading our mortgage app. So that is provided by Ned Ligon with movement mortgage. And you can download the app to your smartphone so you can text the word lending to the phone number 5 5 5 8 8 8. So once again if you want to get pre qualified you want to look at the current interest rates or ask any type of lending questions. You can download the mortgage app to your smartphone and you can do that by texting the word lending to the phone number 5 5 5 8 8 8.
Great way to get pre qualified right from your smartphone. It's nice and easy to do that and then you will be better prepared to go house hunting. You can do that right now by texting the word lending to the number 5 5 5 8 8 8 and download the app right there on your smartphone. Very easy to do. These are some of the top house hunting mistakes Walter stronghold here with me alongside Angie Cole the owner and broker in charge of a Cole Realty. Another top house hunting mistake Angie would be waiting too long to go see a home. So I guess you you find it online but you don't take the steps right away to go look at it. And now somebody else sneak in and grab it before you.
Yeah. And it's it's sad because we see all the time that you know oh we have time to wait you know. Well you really don't. In today's market unfortunately especially in the Raleigh in the Triangle area it is a crazy crazy market right now. It's definitely more of a seller's market. So that means you know we have very low inventory so less homes to choose from. And whenever a great home pops up on the market more than likely there will be several showings. And we could get multiple offers so do not wait too long to see the home or the home could be gone. Right now as far as active homes in the market in the Triangle MLS there sixty five hundred active homes. That really is not a lot at all. For example in just Raleigh alone under the price point of 200000 there is only 70 homes that are active and on the market. So not much to choose from to have a new listing pops up that you think you will like that might be the home. That's perfect for you. You need a jump in the car you need to schedule an appointment and you need to go visit home immediately and you know not only do you not want to risk the home being lost but also the quicker you get in the quick you make an offer the more likely you are to get that home where if you drag your feet.
I mean I've had homes I actually have one under contract right now a in deal where the home is on the market for I believe it was 12 or 13 days on the 12th and 13th day we end up getting multiple offers yeah three offers. How random is that that you know it had been on the market already for 12 to 13 days with no offers and all the sudden we get multiple offers so you know if you want one or said come on day one they might not have gotten a win the battle for civil offers. Exactly. And you know it's sad for the people that lost out but once again you know time is of the essence. So get in the home as soon as it hits the market or you know unfortunately you might not get the home of your dreams if you need help buying or selling a home here in the Triangle.
Angie and her team at Echo realty can help you can get in touch with Angie directly by calling or texting 9 1 9 5 3 8 64 77. That's 9 1 9 5 3 8 6 4 7 7. Another top House hunting mistake Angie is that people often get distracted by sparkly new features that is so very true.
Reminder that when you're viewing at home and you're touring through you really need to also look at the bones of the home the structure the overall layout you know and also condition of the home. It's so easy to get caught up on oh this brand new tile backsplash you know love that they painted the cabinets white and we have new granite. But remember those are all cosmetic items that you can add after you move in the home and you've now owned a home to me what's most important is making sure that the home is perfect for you as far as location goes. Your budget you're getting the layout that you need maybe you know it's a layout that works for you now but will it work for you long term. Are you looking to grow your family. And so and also just make sure that all of the major systems have been taking care of you now. We have a roof on our home. This home is now 20 years old. Is the roof original or has that been updated. So try not to get caught up in all the sparkly new features because those items can be added at any point you want to make sure that you're really looking at the big picture when it comes to purchasing a home.
It's a great couple of pieces of advice there and I think make sure that you're nuts and bolts are covered first before you start worrying about all those sparkly things and it makes a lot of sense. Something else that and this one's a little bit more nebulous if you will maybe a little bit more theoretical but a top house hunting mistake we could add to this list would be expecting perfection.
It's never perfect. I'll be honest with you it doesn't matter what price point you are at whether you're looking at one hundred thousand dollar home you're looking at a million dollar hand you know it is near to impossible to get a perfect home Even when you're building a home more likely you have the chance to do that but it's so often that you know until you actually live in the home you don't realize what things you would have tweaked you know or even building a home for yourself and your design and the layout you're picking out all your choices and your colors and upgrades. But then once you live in the home you're like man our master closet is really too small for us you know. So when you're searching for a home do not expect perfection. It's not going to happen. Well we always tell our buyers is to make a list. Let's focus on OK. What are our must haves and then what are our wants. Let's try to hit all of our must haves but then the wants are just kind of extra fluff. You know those are great but it's it's near to impossible like I said to have a perfect home with every little checkbox of know what you would want in a property that you're going to own.
Again if you'd like to reach Angie Cole you can call or text her at 9 1 9 5 3 8 64 77. That's 9 1 9 5 3 8 6 4 7 7 call or text Angie to get in touch. Speaking of the nuts and bolts that you mentioned a few moments ago Angie that goes for the surrounding areas as well. Don't buy a home just because it has granite countertops. If you're ignoring some of the features or lack thereof of the surrounding neighborhood.
Yeah. This can be a huge mistake. Just because you know even when you're buying a home you do not want to think about moving. You know I hear so many people say oh this is our forever home we're living in it forever. Well very often it's not your forever home. I hate to tell you that you know maybe something has changed or your family maybe your financial situation maybe all the sudden you hit the lottery and you decide to go buy this big time but you know ignoring their surrounding neighborhood can really hurt you. Not only do you need to look around what's right around your home. I for example I've been about two years ago. I helped the clients buy this home since they own the home. Unfortunately the next door neighbor a new person moved in and do not care for their home at all. So when it came to reselling their home you know that was really a sticking point for a lot of people was I love your home. I loved this home that we're touring but your next door neighbor. You know not so much and just so knowing who how others take care of their homes in their actual in the neighborhood but also surrounding neighborhoods because the other homes around you can definitely affect your price point and your resale ability. I don't think that's a word but your real resale and how I like resale ability. Yeah I think it will make it a word added to the dictionary but yeah it can really hurt you and you know as far as how quickly you get your home sold and at what price point let's say I'm googling resale ability now it looks like a re saleable.
Yeah re saleable is a word now. But what will allow it. How about a guy. You. All right last but at least one more house hunting mistake and that's an obvious one of course house hunting without an agent.
Yeah. Don't be silly. So you know having an agent that's you know they are looking out for you. The it's free. It's. Yeah. In North Carolina. From state to state it is different but I'm assuming all the listeners are here in the Triangle and surrounding areas in North Carolina. You know it is free. The way that we are paid for our services is actually by the sellers. Whether you have an agent or not. Remember when you are looking at him if you do not have an agent. That doesn't mean that you will get a better deal in the home because an agent's not being paid. That actually means that the listing agent gets all of the compensation but an agent is there to look out for you too. First of all make the process exciting to make it seamless hassle free. Do the searching for you. A biggie is negotiating for you on your behalf and then just carrying you through the process from start to finish. I know before I became a real estate agent you know if I were to ever think about buying a home on my own I'd be clueless. You know I don't understand what it takes to buy a home I don't understand the contract terminology so it is very important to have representation when you are searching for a home make sure that you have an agent. And so one resource that a cold reality we provide and we would love to send to anyone listening to the show is our contract guide. And this just gives you the start to finish to understand the process when it comes to buying or selling a home and just understanding the terminology and the steps along the way. So if you would like to receive a copy of our home buying guide which is the steps from the very beginning and then until after closing you can text the word contract to the phone number 5 5 5 8 8 8. So once again if you would like to receive a copy of our home buying guide just text the word contract to the phone number 5 5 5 8 8 8.
I'll get you a copy of that home buying guide right at your fingertips on your smartphone. All you have to do is shoot that text to us what we'll do is text you right back with a link you click on the link and you can view the home buying guide. You can even download it to your smartphone for later use. Again what you do is go to your smartphone open up a text message you're gonna send it to the number 5 5 5 8 8 8 and in the message field all you do is put the word contract in there. That's a contract and then hit send and then they'll trigger a text to come right back to you with that link.
So again just send the text contract to the number 5 5 5 8 8 8 and you can look at and even download Angie's home buying a guy that walks you through the steps of buying a home here in the Triangle.
Very useful guide. Those are some of the top House hunting mistakes and why you should avoid them.
On today's edition of The Savvy real tour there's still a lot more to get to on today's show so no muscle or helpful tips and information coming up.
Let's shine a little light on some of the Triangle's best areas right here on the neighborhood spotlight.
Time for the neighborhood spotlight here on the savvy real tour where we feature a great area here in the triangle that you might want to learn a little bit more about. And this should be a I think a good neighborhood to learn about this week and he's taken us to a fun place. Andy what's this week's featured neighborhood.
So this neighborhood spotlight is in Raleigh. It is called 5 4 1 North 5 4 1 North in Raleigh to get to this neighborhood. You just take I-40 exit 18 which is Lewisburg for a one then the very first. Right on to market Avenue. And then a right onto Perry Creek Road. This is a huge master planned community which is brand new. Of course they've already had sales and actively been building but there's still a lot of new construction happening in 5 4 1 North. This plan neighborhood consist of both townhome and single family homes. So there's a mix of all different style and products which I love a neighborhood like this because you just have you know so many different options to choose from different price points. You know it's one of those neighborhoods that fits the needs of anyone. There's different builders. So for example we had Chesapeake homes land our homes level homes medallion construction so different style of building as well. As far as you know what you like and what you don't like. You can choose and pick the price point ranges from the to 40s up to the five hundreds.
And they also of course they had the amenities with a pool the clubhouse you know there's sidewalks walking trails and there's also going to be a lot of commercial development happening in the area as well just so it's one of those neighborhoods where it's you know easy and feasible to walk you know to the nearest grocery store to just shopping restaurants. So it's going to be a really cool cool area.
Looks like Wake Tech is right next door. Right. So you've got the.
Yes good satellite yes and kind of the satellite wait. Yep. Not the one off of a more s but yes you're exactly right there on campus. Yes exactly. So you got lots of resources Jack right nearby. And I mean it's right off of 540. So it just you know a quick hop on a 540 you can go wherever you want or it's right off before 1 2 so which can lead you straight into you know downtown Raleigh.
Yep pretty cool location. So that's the neighborhood spotlight this week 54 0 1 North in Raleigh.
Yeah. And so if you are thinking about maybe move into this area. But you first need to get your home sold. We would love to give you an idea of the value of your home. So you can text the word listing to the phone number 5 5 5 8 8 8. Once again if you are thinking about selling and you want to get the value of your home it's as simple as taxing on your smart phone. So text the word listing to the phone number 5 5 5 8 8 8.
That's all you do. Just put that word listing into the message field of a text message and text it to the number 5 5 5 8 8 8. You'll get a text right back that has a link. You click on the link and put in your home's information you can find out that estimated value of your home. Good first step if you're thinking about selling your home and maybe even buying in 54 a one north. If you're out and about this weekend go check that area out. You can see some of the new builds and how the neighborhood is laid out. Very pretty area up there for sure.
Again just text the word listing to the number 5 5 5 8 8 8 to get an estimate on the value of your home. That's listing to 5 5 5 8 8 8. That's the neighborhood spotlight. More coming up on the savvy real tour with Angie Cole of a real team
It's time for the mailbag. We want to hear from you.
Sophie says My husband thinks he has this genius idea to build a gym in our home.
As we get ready to sell it in a few weeks he thinks that the beginning of the year people are trying to get in shape and that the gym is going to add value to the home. Do you think he's right.
Sophie it's not such a genius idea. Remember you know something like a gym is very specific to a buyer's wants and needs even though your husband might think that it's a spectacular idea and love it to the next buyer. A gym inside the home might not be important. You know maybe the next buyer they enjoy working out but they need to get out of their home to go work out. So definitely do not invest the money into building a gym in your home. If you're thinking about for resale purposes also in your home though you know you have a gym which is kind of just a room right. Right. All of the items in your gym all the personal property or equipment is personal property right. So even though it looks fabulous as a gym it's understood that all those items are being taken with you. So area with a rubber mat I mean is that right. What's you're shooting. Right exactly. So I mean to me kind of our rooms are REM. And any room can really be a gym. So you know I wouldn't really focus on trying to you know show it off as a gym to help you to resell it.
Now if you want to sell it with all the equipment included maybe that might entice the fitness minded person could.
But just remember to the amount of money that you spent on that equipment right now you're selling all used equipment is athletes just like any type of furniture. So you know don't expect for that to be the selling point of your home at all.
Even if you get somebody who's fitness minded they may want it set up differently. So it hurts you right there. Exactly. 100 percent. You've been listening to the savvy real tour podcast. I'm Walter store Holt alongside Angie Cole. She's the owner and broker in charge of eco realty here in the Triangle and if you have questions for Angie we invite you to go online to a call realty dot com. Listen to past podcast episodes on the Web site read the blog and all the great information including the option to find a home right there on the Web site. That's a cool realty dot com and you can also call ante with your questions. 9 1 9 5 7 8 31 28.
The above audio transcript of "PODCAST 027 - HOUSE HUNTING MISTAKES - ANGIE COLE.mp3" was transcribed by the best audio transcription service called Sonix. If you have to convert audio to text in 2019, then you should try Sonix. Transcribing audio files is painful. Sonix makes it fast, easy, and affordable. I love using Sonix to transcribe my audio files.