Episode #30: How Real Is Real Estate Television?
Posted by Angie Cole on Thursday, February 7, 2019 at 5:00 AM
By Angie Cole / February 7, 2019
Comment

The Savvy Synopsis
It's exciting to watch homes being bought, sold, and renovated all over the world on HGTV. However, these programs might not always reflect real life. We'll reveal what to keep in mind before basing your own decisions on real estate television.
Download this episode (right click and save)
Featured Foundations:
Real Estate Myth Busting.
00:39 - We love HGTV and other home improvement channels. In fact, Angie once made an appearance on House Hunters.
4:02 - These shows aren't always based in reality, and you need to be careful not to use them to drive your home buying decision-making process.
5:49 - Use the internet to your advantage, but realize you might not get everything you want in a home.
6:45 - Technology has changed the home buying process. As a result, the realtor's role has shifted as well.
Neighborhood Spotlight.
10:04 - Join us as we take an excursion to Brookstone in Northeast Raleigh.
This neighborhood sits at the split of Capital Blvd and Hwy 401 (Louisburg Rd).
It's a single-family detached home neighborhood featuring houses built between 2000 and 2003.
Price Range: Below $225,000.
Size: 1,200 square feet - 2,000 square feet.
Mailbag.
12:14 - Millie has noticed a lot of the information listed about her home online is incorrect. She wants to know whether Angie's team could fix this information when she goes to sell her home.
Get In Touch:
More From Angie:
The host: Angie - Contact - Call: 919-538-6477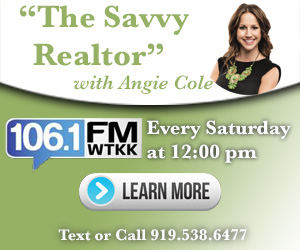 Subscribe To The "Savvy Realtor" Podcast:
Show Transcription:
It's time for The Savvy Realtor Podcast. I'm Walter Storholt alongside Angie Cole the owner and broker in charge of A Cole Realty serving you throughout the Triangle teaching you about the ins and outs when it comes to buying or selling a home. You can find the team online by going to A Cole Realty dot com that's A C-O-L-E Realty dot com or by calling 9 1 9 5 7 8 3 1 2 8 that's 9 1 9 5 7 8 3 1 2 8. And now it's time for one of the top realtors in the Triangle. Angie Cole and The Savvy Realtor Podcast. All
Right I think we're getting Angie excited on today's show because we're getting ready to talk about. I'm sure the channel that's always on in the background in her home.
H G T V or any of those I guess home improvement or you know home type channels you know real estate television I guess is the broader way we can describe it very popular these days I mean Angie who doesn't like watching House Hunters or loved or listed and putting yourself in their shoes and deciding what you're gonna do in those situations or the beautiful homes that occur after the renovations from Chip and Joanna. I mean it used to be the weather channel in our house that was always on in the background now it's sort of like raunchy TV has taken its place.
I love it. Well Carley in my household I'm actually the baby channel has taken presidents but normally it would be a TV because yes we love those shows we love the home improvements we love the personalities that come along with it as well. And it definitely gets us exciting to make some changes and do some improvements to our home.
The baby channel I didn't know that that existed.
Well we call it the baby channel. I don't even know the real name to it but it's horrible it's not even in HD but I don't think the little one cares. But yeah it's a little bit of a learning channel and just keeps him happy in times of need.
Fascinating. Well before we even get into talking about all these different types of programs it's important to note that you've actually been on HDTV before you were featured in house hunters a couple of years ago helping a local couple in the area. Give us a quick recap of that experience for those who haven't heard the story before.
Yeah. So that was back in 2013 going to seems like forever ago. So my clients Roberto and Karina also good friends of mine were looking to purchase a home in the area. We had a husband and wife who were kind of looking for something different. So for example Carina. She enjoyed being in the downtown area. The closeness you know to restaurants where she could walk you know back and forth where Roberto it was important to him to get a larger home. So we ended up being featured on HDTV house hunters where you know they choose from three different homes. They end up buying the home they go under contract at the end. There is a house warming party. So it was a really neat experience. I always jokingly say though I never would care to be an actress. It really made me realize how much work is put into just a 30 minute show which within 30 minutes. I mean there's commercials and even in between that timeline. But it was total it was five days of taping I was involved in three of those days. But there's a lot of work that goes into making one of those shows.
Is it really that much taping that goes every one of those episodes. The I thought that that would be a full one maybe two days of taping now now.
I mean it is amazing. I mean because E then and I would like to say I was pretty decent on camera along with my clients and we would go through you know. All right. Less toward this one bedroom or less toward the kitchen. And even though you do it 100 percent correct and you know there's no mess ups or whatnot you still had to do that same taping again. A good three times three or four times because they need to get different shots different views. And so that's when it really starts to add up as far as like timing and the time invested to make one of their shows.
That's pretty wild. You know I know a lot about the you know just from reading over the years we've probably all heard a little bit about how those are somewhat staged. You know through a lot of the programs and you know there's kind of in many cases have already bought a home or at least put an offer on a home some of those kinds of tricks of the trade. But I would never have guessed that I would've taken that long to actually film the programs I would think that they would have had much snappier. So that's a yes. Well that's our first point to take away from you know watching some of these shows online. House Hunters being a great example of that is that you know the home search is painted in a particular way especially on that program. Buyers look at three homes and then they pick one but that's not really an accurate representation is it.
No not at all. Not at all.
So I mean Angie what would you say is sort of the average search for somebody. How many homes are they looking at these days. What would be the reasonable expectation for somebody who's getting ready to start that process.
Sure. I mean now do we show three homes and someone falls in love with a home and they go under contract. Sure. We've shown plenty homes just one home or as far as the home searchers show one home buyers love the home they go under contract and they live in it and they love it. But on average I would say we typically show about seven to 10 homes before a buyer finds the perfect home that meets their needs and they're ready to move forward with an offer.
Yeah I think that was our our first home we may be looked at six or seven townhomes and then decided we really liked the single family home rule. And so then we ended up kind of hitting the reset button and probably looked at five or six more from there so we ended up having a higher total that first time around. And then our second home search I think when I looked at four in person but we did about a thousand drive bys. I would say leading a foreign person so it's you know there's different ways of sort of you know doing that search.
Well I was going to say and that average over time definitely has dropped I know from even several years ago when I was actively showing buyers in our market. You know we would go and look at 15 20 homes sometimes but where you know consumers are buyers they are on the Internet a lot more. They're able to get a feel of what they like what they dislike you know and so they're able to prepare so when it's time to actually get out there and start physically looking at homes you know they've really narrowed it down to exactly where they want to be exactly what style what type of home they're looking for. And especially now with the inventory levels being so low there's not that so much to choose from. So it's you know caused or created where buyers are not as picky. I would say and they realize that you know what. If I can get maybe seven out of 10 of my must haves in a home I'm doing pretty good yeah.
Now I think that's a great point. It's interesting how the you know technology has changed not only the homes search but your job as a real estate agent has really taken a change I mean seems like a real estate agent you know back in the day so to speak the main crux of your job was shepherding people around to show them homes and now that's seems to be a more minor part of the real estate process just because there's just other ways that your expertise is now highlighted.
Yeah for sure. You know I would say it's now shifted to where you know we have to control and also educate the buyer on the process because of the urgency that's been created with the shift in the market. You know it's our job as the agent as their advocate and looking out for them to really educate the buyer upfront make sure that they clearly understand the process from the beginning what the expectations will be throughout the process. You know financial expectations as well what moneys are due upfront in order to make an offer. And so making sure that we really walk them through the process in the beginning instead of just like you said shepherding them through hands is really important because you know this market is moving quickly and urgency is there for whom has the market that you think you might like. We need to get you out there immediately. So really just preparing a buyer for today's market is very important when dealing and working in real estate.
Well you talk so much about the process and being educated about that because the less time you have to spend learning the process the faster you can make those important decisions and that's why you and the folks at ACO realty have put together a really cool buying guide that's particularly helpful to first time home buyers but also a good refresher for anybody who maybe hasn't you know bought or sold a home in the recent past.
Yeah for sure. So it's always important to understand the process and the steps from start to finish just to make sure that we're going in the correct order. We're not getting ahead of ourselves. For example if you start showing you homes before you've even then pre qualified we might show you homes that aren't even within your budget. You might fall in love with a home and you won't be ready to make an offer because you do not have that prequel letter at hand. So understanding the process and the steps to make sure that we are going through the contract to close process in a timely manner and taking all the correct steps one at a time is super important. So we would love to share with you our Home Buying Guide which takes you through the steps from start to finish. And even after the closing. So if you would like to receive a copy of our home buying guide you can text the word contract to the phone number. 5 5 5 8 8 8. So once again on your smartphone you can text the word contract to the phone number 5 5 5 8 8 8 to receive the copy of our home buying guide.
And once you send that text will text right back with a link to that guide and you can view it right there on your smartphone or email it to yourself for later viewing. Again just text the word contract to 5 5 5 8 8 8 to get Angie call and the Echo realty team's home buying guy 5 5 5 8 8 8 is the number and the word that you text is contract to get that guy.
Stay with us more coming up on today's show. This is the savvy real tour
Let's shine a little light on some of the Triangle's best areas right here on the neighborhood spotlight.
Time to learn about another nook and cranny of the triangle. It's the neighborhood spotlight. Angie Watts our featured neighborhood this week.
Our feature neighborhood is called Brookstone and that's one word Brookstone located in North East Raleigh. So it's right there at the split of capital Boulevard. And for one so off of Lewisburg Road which is for a one and New Hope Road. So great spot right down the street from like the Lowe's all the shopping the restaurants so just prime prime location. This is a single family detached neighborhood. The homes are built around 2000 to 2003. They start off small around twelve hundred square feet which are our ranch homes. And then we also have two storey homes going up to 2000 square feet. The homes in this neighborhood are priced below 225. So that is an amazing price point to find a single family home in Raleigh. So if you would like to get more information or maybe you're thinking about buying or selling in the neighborhood of Brookstone you can call me directly on my cell phone I would love to share more details with you. My cell phone number is 9 1 9 5 3 8 6 4 7 7.
Again that's 9 1 9 5 3 8 64 77 that'll put you in touch with Angie Cole of a Cole realty serving not only in Raleigh but all the surrounding communities here in the Triangle as well. Angie was voted number one real estate agent in Raleigh by midtown at magazine and number one in Wake County by Indy weekly. And you can check her out on Zillow dot com where she has more than two hundred five star agent reviews just look up Angie Cole there on Zillow.
Again if you've got questions for Angie about buying and selling homes here in the area or want more information about the Brookstone neighborhood in Raleigh you can call or text her at 9 1 9 5 3 8 64 77. More coming up on today's show. This is the savvy real tour
It's time for the mailbag. We want to hear from you.
M.e. says Andrea I've noticed that a lot of the information about my home on sites like Trulia Zillow etc. are completely wrong incorrect square footage lots size number of bedrooms etc.. Is this something you can help fix if we work with you when we go to sell our home this year. Because it seems like that would be important to have that stuff right.
Yeah you're exactly right Millie and this is not uncommon. I always use this example but my personal home was listed in Zillow as a duplex and I live in a single family detached home. I actually just looked up my home again on Zillow and although it's been corrected to a single family home they have the bathroom count incorrect. So we oftentimes see that third party websites like Zillow realtor dot com and Trulia cannot be in accurate when it comes to displaying your home and all the features of your home. But do remember that once we list your home those listings on the third party websites are overridden by our MLS data news feed. So once we go active and on the market the new listing the accurate information that we put into our MLS database will then feed through to these third party Web sites. Our team we have an upper hand on this too because we spend money with Zillow to become what's called a premier agent. And the great thing about a premier agent with Zillow is we can also market your home as a Coming Soon listing on Zillow. You must spend an unfortunately to play with that company though is the way that it works. But by doing so when we list your home as a coming soon in Zillow again they are we can change all the information to make sure that it accurately reflects your true features and everything about your home. So not only will it change when you go active but we can go ahead and change that information when you're listed as a coming soon with our team.
That's pretty cool to be able to do. And I know that a lot of people do start their searches on those third party Web sites but we try to emphasize a lot here on the program that for both buyers and sellers it's so important to make sure that you know you're realizing that the MLS database is really the magic sauce here. Angie that that ends up being where most buyers although you might casually start on these third party Web sites buyers are really going to end up relying on that MLS database and you know that the portal that they're real tour is setting up for them.
Yes you're exactly right. So the MLS database is true accurate information it's real time data to which is important. And so in the MLS database you know that's where we will go through all the specifics of your home. We will make sure that all information is accurate and is exact to you know the way that your home should be displayed. And then from there it will feed over and it will go correctly into the third party Web sites.
You've been listening to the savvy real tour podcast. I'm Walter store Holt alongside Angie Cole. She's the owner and broker in charge of ACO realty here in the Triangle and if you have questions for Angie we invite you to go online to a call realty dot com. Listen to past podcast episodes on the Web site read the blog and all the great information including the option to find a home right there on the website. That's a call realty dot com and you can also call ante with your questions. 9 1 9 5 7 8 31 28.
The above audio transcript of "PODCAST 030 - REAL ESTATE TV - ANGIE COLE.mp3" was transcribed by the best audio transcription service called Sonix. If you have to convert audio to text in 2019, then you should try Sonix. Transcribing audio files is painful. Sonix makes it fast, easy, and affordable. I love using Sonix to transcribe my audio files.