Episode #31: Real Estate Agents To Avoid
Posted by Angie Cole on Thursday, February 14, 2019 at 5:00 AM
By Angie Cole / February 14, 2019
Comment

The Savvy Synopsis
Most real estate agents can be typified by a few different categories. Angie will explore whether you should stay away from certain personalities.
Download this episode (right click and save)
Featured Foundations:
Real Estate Agents To Avoid.
4:20 - Watch out for The Hot Mess. This agent is incredibly unorganized, and they're usually pretty tough to reach on the phone. You need to work with an agent who is organized and punctual when it comes to meeting deadlines and communicating with you.
5:20 - The Corporate Behemoth is how you might typefy an agent who has built a truly massive company. Working with a large team can actually be beneficial as they're usually well-established firms. However, make sure your agent is meeting your needs. If The Corporate Behemoth is treating you as a number in their system rather than as a client, this could be a red flag.
7:00 - Watch out for The Dabbler. This is the agent who only sells one or two homes a year. Maybe real estate is their side gig in addition to their day job. You typically want to stay away from these realtors as they lack experience and might not be able to meet your needs.
Neighborhood Spotlight.
10:04 - This week, we travel to The Cove At Falls Lake. It sits on the border of Wake Forest and North Raleigh.
This is a gated community, and it enables you to walk to Falls Lake.
It's a quick trip from this neighborhood to the intersection of Hwy 98 and US 1 where you can find a Home Depot, Target, Chick-Fil-A, and more.
Each home is custom-built and comes with 1 + acres of land. They started building in 2014.
Price Range: $800,000 +.
Size: 3,500 square feet - 7,000 square feet.
Mailbag.
13:13 - Cliff has begun the process of selling his home, and he's having a hard time reaching his agent. He wants to know whether this is a red flag.
Get In Touch:
More From Angie:
The host: Angie - Contact - Call: 919-538-6477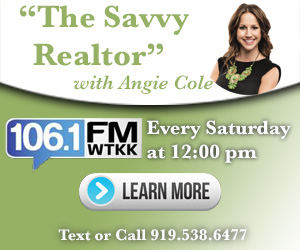 Subscribe To The "Savvy Realtor" Podcast:
Show Transcription:
It's time for The Savvy Realtor Podcast. I'm Walter Storholt alongside Angie Cole the owner and broker in charge of A Cole Realty serving you throughout the Triangle teaching you about the ins and outs when it comes to buying or selling a home. You can find the team online by going to A Cole Realty dot com that's A C-O-L-E Realty dot com or by calling 9 1 9 5 7 8 3 1 2 8 that's 9 1 9 5 7 8 3 1 2 8. And now it's time for one of the top real tours in the Triangle. Angie Cole and The Savvy Realtor Podcast.
Angie I saw a funny thing not too long ago it was comically written identifiers of a real estate agent and I'm wondering how many you check off on this box. Starbucks is three of your seven favorite restaurants.
Make that like number one for me all right. Yeah. No that's so true. And there's either the Starbucks lovers or the Dunkin Donuts lover Sure. I mean I'm Starbucks. Yes. Are you crazy Dunkin Donuts fans.
No I I'm a flip flopper so just there's totally times where I'm 100 percent Duncan and I think you're burned out. And then I flip over but then I'm right back.
I'm not a fan of I I care about coffee either. So my daughter and I we zip through there because there's our burgers and a Karibu that's jointly together now for reasons I love. Yeah for the bagels. But I mean the Cabinet the coffees to me are too sweet my sweet drinks and I'm like look like over the top. Sweet. Oh yeah. So definitely a Starbucks. Starbucks is in the top.
Yes. So I would say Starbucks is crazy sweet. Really. Yeah. Anyway so funny. Not the point of our conversation but yes. Starbucks your favorites right. Your monthly cell phone minutes are in the six figures.
Yeah. That would be true under present. Oh yeah.
Oh yeah. Your business card photo is at least seven years older than your most recent Facebook photo. That's sad old complaint of real estate.
Yeah I mean I do have to say is my business card older than my most recent Facebook but by far. But I'm I'm not quite seven years but I will admit I mean I am going on five years of having the same photo.
So now there's a reason behind that. I think we've talked about before is that's part of the branding that's like your logo.
You're right you're right. Yeah. Especially whenever you have your face on signs and on business cards you know it is people they they know you. Right. And it's funny because oftentimes I'll go into like a listing appointment they say oh your hair's changed. Yeah. You know because now it blonde is that are brown. But also I mean I'll be real with you. Yeah business cards are inexpensive but getting all the oh yeah there's some bright new signs. I mean that's a hefty cost so right. We're not changing out our signage every single year. That's not so much a bad thing it's one maybe it's like a 25 year life for some people once actually saw someone who posted on Facebook today you know I mentioned it and it was this funny like glamour shots but. Yeah those crack me up where. I mean you don't even look like that. I didn't even know that was you. So it's funny. Time to get that updated.
Lot of a lot of photo editing going on the background for some of those things for sure. Yeah. Then you've got you. And I think you might disagree with us when you come back from vacation to find thousands of voicemails clogging your inbox.
But I do not agree with that one. Yeah. I am an amazing real estate agent and I actually answer my phone and if I can't answer I do you return your voicemail so if I've got your team backing you. Yeah. Also that's very true. So if I'm out of the country where maybe my you know cell phone service is not on I do make sure that you're well aware and it's left to my voice mail for you to have another contact. Don't be one of those agents with a clogged voicemail that that drives me insane to I'm trying to reach out to an agent because maybe we're negotiating the contract and the voicemails right now drive me insane.
Well you know you almost hit three out of the four stereotypes there so you kind of a two and a half stars out of four. So we'll talk we'll count you as a true real estate agent based on those metrics but yeah. This this was written in jest when I came across this. But we do want to help you identify some of the types of real estate agents that you might want to avoid and you may disagree and say some of these things could actually be you know a positive trait for an agent to have. But the idea here is to maybe point out some red flags of agents that we find are somewhat common and why that might not be the best fit for you as you look to work with an agent the first agent will cover here Angie would be the hot mess and this is you know just like it sounds somebody who's has trouble getting organized on things and it ends up being pretty evident right out of the gate.
Oh yeah. You want to make sure that you're working with a real estate agent that really understands the process that you can cross our Ts dot their eyes they have things in order because they're crazy. This will definitely come back and it will be on top of you and just the process will be a mass it'll be chaos. So you want to make sure that you have someone who is very organized and you know they respond to emails in a timely manner. They know when deadlines are approaching. So you're not you know run around you know craziness happening throughout the process. You know we want to make sure that it's a smooth and a seamless process. I can't say that enough. So be careful dealing with the hot mess.
Yeah absolutely. And think you can spot that when to when you see it as well so maybe great folks might be very friendly button. The organizations can be really important for you as a buyer or seller in the long run. Sure thing. What about working with somebody that would be considered maybe the corporate behemoth. You know the really big real estate organizations and companies I can see the two sides to that coin of you know you're nothing but a number would be the top criticism I would imagine. But at the same time those companies have grown to a size. They have to have had success because of it. So is there safety in going with those big companies as well.
You know I think it's actually a great thing to work with. You know one of those larger teams now do you need to work with the biggest firm out there now. Because remember that within a big firm you have a lot of individual agents that never do any business. Right. But working with the team who has the process and the systems in order and in place I think is wonderful. Now you want to make sure that not only are you working with a team who has been down this road many many many times they have a lot of past clients but they also do care for their clients as well. We never want you to feel like you are just a number. Our clients are super important to us. You know even after the sale our team we are amazing with following up with our past clients we do fund competitions we have private you know Facebook groups only for our past clients we do client events you know because clients to us are at you know current and past clients are super important because we want them to come back to us. You know you will not stay in that home forever. I bet you you will need to eventually sell your home you'll eventually buy again. So we want to make sure that you are going to be a repeat client of ours and that you trust us because we did an amazing job for you because we truly care. We really do care.
So make sure that if you are working with larger real estate agents that you're still getting the personal touch it's really a combo of those two things someone who's not a dabbler not just selling the one or two homes a year because then I guess. Well let's go there. That comes with its own. Yeah. Kind of complicated because there's a lot of real estate agents out there and many people do it as a side gig and so many more power to you for doing that but as a buyer or seller you're dealing with the largest investment likely in your life.
You're someone who's just dabbling in the business the best fit for you and that's a good question as you know the one of the biggest misconceptions of real estate is there being a real tour is it's easy. Right. And so there are so many agents that go out there and they get their license they pass a class but then they realize it is not that easy. It's not that easy just to find clients to network to you know make those connections and then to deal with you know the stresses and the emotions that come along with helping clients buy and sell a home and so you do have those dabbles here and there who they get their real estate license. They are still working a full time job they might sell one home a year and you know be cautious of that just because they are more than likely not up to date with what's happening in our market you know real time data real time information the best ways to market and sell your home you know how to win multiple offers if you're buying a home and you're in one of those positions. So you know the dabbler can be someone who I would definitely steer away from as well. Yeah absolutely. So of course there are many types of real estate agents out there but of course with working with myself and our team a cold reality we have been told.
I mean we are the perfect mix of you know we have some of the corporate behemoth right because we have our systems in place and you know we make sure that we you know like I said we don't arise we cross our Ts we definitely know what we're doing when it comes to representing our clients right. We you know always we strive to get top dollars for our sellers. We sell their home in a very quick manner and get about buying or selling a home. And you would love to start that conversation. I definitely can walk you through that process. We want to make sure once again we educate you on the process. You never feel at loss like you don't know what's happening what's coming up next throughout the process. So if you're thinking about buying or selling a home I would love to start that condo with you. So give me a call. My number is 9 1 9 5 3 8 6 4 7 7. Once again 9 1 9 5 3 8 6 4 7 7. And let's start the convo list chat and let me just guide you throughout the process.
That's to get in touch with Angie Cole of a Cole realty here in the Triangle. Learn the ins and outs with the team when it comes to buying or selling the home here in the Triangle by calling or texting now 9 1 9 5 3 8 64 seventy. That's 9 1 9 5 3 8 6 4 7 7.
Much more to come on today's show. This is the savvy real tour with
Let's shine a little light on some of the Triangle's best areas right here on the neighborhood spotlight.
Time for the neighborhood spotlight exploring some of the nooks and crannies of the triangle. Angie Cole of eco Realty is going to take us through this week's featured neighborhood. Angie where we.
So I thought we would talk about our feature listing of the week and turn that into our neighborhood spotlight. So the neighborhood is the curb at Falls Lake which is located in Wake Forest. But right there on the border of North Raleigh right off of 98 Highway it's a gorgeous neighborhood it is a gated community and you can walk to Ball's lake. So Prime spot prime location right down the road of course 98 has really built up so much where it's a quick you know zip down the road over there to the intersection of 98 and U.S. 1 where there's all the shopping there's a target I believe there's like a Home Depot chick flag. Everyone loves Chick fil A. Right. So yeah. Really close to you know what you need to get to as far as you know living your daily life. But as far as in this neighborhood they are all custom built hams. They range from about 35 hundred square feet up to 7000 square feet. So there's some mass of homes in this neighborhood. It is a smaller home some more quaint where they all have really good sized lots typically about an acre plus. So they're spaced out and it's not just over built I guess within the neighborhood. They started building in 2014. The homes they start off in 800000. So they are you know a higher price point. But once again just a lovely neighborhood very mature and just beautiful custom built homes in the code at Falls Lake.
So this is sort of like the southern portion of Falls Lake is that kind of narrows down into the North Raleigh area just on on the north side of the lake. Exactly. Really easy to get to from really all points Raleigh or especially if you need to get back and forth to Wake Forest that's just a quick little zip over into Wake Forest downtown and you can even get to Durham just ran over on 98. It's a really nice vacation there. Feel like you're way out in the country but only a couple minutes away from all the hustle and bustle of everything else.
Once again that area has just really grown up.
Yeah. We just went in for a hike up in that area. I didn't long ago. Yeah perks are pretty close to they're not exactly in that neighborhood but maybe up in that direction. So very beautiful. Yeah. If you want more information about that neighborhood and maybe some other neighborhoods in that vicinity if you're interested in kind of living near Falls Lake or up in that north Raleigh or Wake Forest area. Angie Cole and her team know all about it. They've helped a lot of people buy and sell their homes around that area.
You can call or text Angie directly at 9 1 9 5 3 8 64 77. That's 9 1 9 5 3 8 64 77. And the team is always online 24/7 and a cold real teacup. That's a COLB realty dot com. Stay tuned there's much more coming up on today's show.
This is the savvy real talk with Angie Cole of eco Realty. Here is the
It's time for the mailbag. We want to hear from you
Cliff says I've recently begun the process of selling a home and it's been really hard for me to reach my real tour throughout the process. Simply put is this a red flag. I need to consider as I work with this agent class.
I feel like if you're asking that question you already know the answer. You know this is I mean when it comes to selling your hand it's a long process and not just a long process but a lot of details that really go into selling your home. There's going to be a lot of communication back and forth between you and your real estate agent. You know there's a lot of things that you'll have to ask me a lot of questions I'll have to ask you. You know we need to make sure that we have an open line of communication where either of us. We need each other. We should be able to get in touch with each other in a timely manner. Right. I mean that's super important and whether that's by a phone call and e-mail text communication. You know what. However you prefer to communicate best. I'll make sure that I'll do that you know reciprocate. So if you're having issues with already you know hearing from your agent and you know just it's hard to reach that person you know I would consider who you're working with. I don't know if you've already signed any type of paperwork or not if you have signed paperwork with your real estate agent you are locked into a contract and that's something you would have to take up directly with them. But of course if you have not signed any paperwork my team we will love the opportunity to speak with you. You know just show you how we get things done.
How you know our communication skills are amazing to make sure that you have a smooth process you close on time and you're super happy with the experience you've been listening to the savvy real tour podcast I'm Walter store Holt alongside Angie Cole she's the owner and broker in charge of ACO realty here in the Triangle and if you have questions for Angie we invite you to go online to a cold realty dot com listen to past podcast episodes on the Web site read the blog and all the great information including the option to find a home right there on the website. That's a cold reality dot com and you can also call ante with your questions 9 1 9 5 7 8 31 28.
The above audio transcript of "PODCAST 031 - AGENTS TO AVOID - ANGIE COLE.mp3" was transcribed by the best audio transcription service called Sonix. If you have to convert audio to text in 2019, then you should try Sonix. Transcribing audio files is painful. Sonix makes it fast, easy, and affordable. I love using Sonix to transcribe my audio files.