Five Traits Of A Good Realtor
Posted by Angie Cole on Thursday, March 14, 2019 at 5:00 AM
By Angie Cole / March 14, 2019
Comment

The Savvy Synopsis
As you search for a realtor, find the right fit for your needs. Discover five traits every realtor should embody.
Download this episode (right click and save)
Featured Foundations:
Five Traits Of A Good Realtor
1:52 - A good realtor is honest. They tell their clients what they need to hear, and they educate their clients throughtout the homebuying or selling process.
3:08 - A good realtor is professional. Your agent is a representation of you, and you want them to look sharp. You don't want an agent who gets defensive as issues arise throughout the process. An unprofessional agent can sink a deal.

5:00 - A good realtor is savvy. Remember, that's the name of the show! Your realtor should be agressive yet confident. You want them to know the market, and you want them to find you the best deal. Your agent should also be marketing savvy. They need to be creative, and that goes way beyond a sign in the yard and an online listing.
7:32 - A good agent is tech savvy. If they're not tech savvy, they hire tech savvy people to be a part of their team. There are all sorts of ways to harness technology to market your home, and your realtor's team should effectively use those tools to get your home sold.
9:20 - A good agent is a communicator. They're clear and concise, and they're prompt in their responses to your emails and questions. Beware of realtors who are slow to respond.
Neighborhood Spotlight.
13:02 - This week we visit Vernon Place in Wake Forest.
Vernon Place sits way up in North Wake Forest off of Bold Run Hill Road.
This neighborhood features new build single-family homes. Construction began in 2017 and is now wrapping up.
Each home sits on 1+ acres of land. They come with a surplus of yard space.
Price Range: $300,000 - $430,000.
Size: 2,000 square feet - 4,000 square feet.
Mailbag.
15:46 - Berta is researching realtors to help her sell her home. She's read all sorts of online reviews, and her friends have given her their recommendations. With the influx of information, she's having trouble making a decision, and she'd like some help.
Get In Touch:
Subscribe:
Apple Podcasts - Google Podcasts - Spotify - Stitcher
The Host:
Angie Cole - Contact - Call: 919-538-6477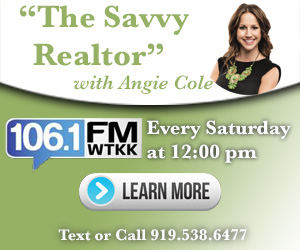 Show Transcription:
It's time for The Savvy Realtor podcast. I'm Walter Storholt alongside Angie Cole the owner and broker in charge of A Cole Realty serving you throughout the Triangle teaching you about the ins and outs when it comes to buying or selling a home. You can find the team online by going to A Cole Realty dot com that's A C-O-L-E Realty Dot com or by calling 9 1 9 5 7 8 3 1 2 8. That's 9 1 9 5 7 8 3 1 2 8. And now it's time for one of the top realtors in the Triangle. Angie Cole and The Savvy Realtor podcast. When you're looking for a real estate agent to help you buy or sell a home. Well there certainly are a lot to choose from. So how can you find the right agent. It's
One of the top questions that we get here on The Savvy Realtor. You know one thing to do is pay particular attention to some important traits that I think make up a good agent. And we're going to cover those here on The Savvy Realtor over the next couple of minutes. And Andy is going to give us details not just as an opportunity for her to say how she embodies these good traits but we're going to actually give you some good opportunities to learn why these are such important traits to look for in a real estate agent. And you should know that not all agents embody these traits and so you just have to do your homework and really have a conversation. Interview agents and when you're interviewing them be on the lookout for these kinds of things and he's going to give us all the details as we march on here. If you are new to the program. Angie is a owner a broker in charge of A Cole Realty here in the Triangle serving you not only in Raleigh but all the surrounding communities and towns as well. You can call or text or if you've got any questions at 9 1 9 5 3 8 64 77 Angie and her team have helped more than 600 families buy or sell their home here in the area just over the past three years once again. So Andrea I think first on the list is first the most important really honesty. You know I think a good agent's gonna tell clients what they need to hear not what they want to hear and that's sort of the subtle you know subheading of honesty isn't it.
Yeah I mean number one we have to be honest. But going deeper than that it's really our job as a real estate agent to educate you an example of that is you know I so often go on listing appointments where they were expired listings meaning they were listed with another agent before I came in. And so many times I come in and I'm like oh gosh I'm going to have to be the bearer of bad news because I need to tell them that they were way overpriced whenever they listed their home previously. And so but it's my job to be honest with our clients and be upfront with them because in the end they will only be upset with me if I don't do my job and if I misleading if I'm not you know real with them if I'm not honest it whether it's what they want to hear or not that I'm not doing my job to make sure that you are working with a real estate agent that is honest.
Yeah it's a super board. It may seem obvious but just remember that honesty doesn't just mean like straight up lying to you. But you know being very forthcoming with you I think that's really the nuance their professionalism is also really important as well. How your transaction occurs matters because especially from agent to agent I don't think people realize this Angie but you know it's not just about you and the agent for the agent to agent relationship is also very important during the sales process.
Yeah. Hundred percent. You know I can tell you how many times I've received an offer from an agent and I did not want to. I was hoping I mean the sad to say that our sellers would not like their offer because I knew the agent that I was going to work with was going to be a pain in my butt to be honest with you. So you know whenever we are representing a client you know we are we are representation of you. Right. So when we're dealing with the cobra agent when we're dealing with the lenders we're dealing with the attorneys we need to make sure that we are professional when we are handling the process you know so many times I can see or unfortunately I see agents that kind of just you know bully up and they get very defensive. They're just not professional whenever it comes working through you know issues and the transaction you know and so just remember having an agent that's professional that is representing you looking out for you and your best interest is most important because I've seen agents kill deals for their clients because they weren't professional.
That's too bad. And it's really sad when that happens you've got somebody who's you know trying to buy or you know their dream home or has a really important sale happening in someone's unprofessionalism sinks the deal. Well that's that wouldn't make me a happy camper so you should be able to spot that pretty early on in most cases. How does your agent carry him or herself. Is it in a professional manner. Because those things are gonna matter down the line. So just remember that they're also an extension of you. I think that's a really wise way to look at it as well and so you want them to represent you well in those negotiations that's important to you also hey we need to show this.
You also want your agent to be savvy. Yeah. Why not. Obviously this should be from like a negotiation me. Yeah. Go from a destination perspective right Angie what do you mean by savvy.
Yeah. I mean to me the words I kind of describe Sadie when you say from a negotiation perspective is you want someone who's aggressive but you also want someone who's confident you know someone who you meet who knows the market who knows the business who can represent you and who also can you know get you the best deal possible. So whether it's on the buy side and you want to pay of course the least amount possible or on the list side and we want to make you the most money possible so you want to make sure that you have someone who knows the facts understands how to kind of tweak wording to make it sound most attractive and presentable I guess to the other party. And so having someone who is savvy when it comes to negotiations is huge right. I mean you want to keep money in your pocket whether it's on the buy or the sale side.
Absolutely always want that. No doubt about it. Creativity is also something that's really important I know this is something that you're very passionate about creativity especially in the marketing part of this equation.
Yes so creativity super important as well. So you know especially on the listing side you know it all boils down to the marketing when it comes to getting your home sold. Well actually let me take that back. You know I always say there's three things when it comes to getting your home sold is going to be you know the current state of the home right. It's going to be the price but then it's going to be the marketing. And so if your home shows beautifully there's nothing wrong with it. We have a price right. If your home's not getting sold is clearly the marketing that the agents doing you know what are they doing beyond just putting a sign in your yard and putting it on MLS to make sure that whenever you are meeting with an agent you make sure that they are explaining their full marketing plan and what they are doing to get your home sold. You know I know our team of course not only do you know we do a lot a lot a lot of Internet exposure. So you are all over the Internet as far as your listing goes all over social media but of course like we had this radio show there was no other agent in our market that has a radio show where they can do a feature listing of the week. So we are broadcasting your home out to I mean thousands and thousands of listeners you know that potentially could be a buyer for your home. So what is the agent's marketing plan and what type of creativity are they using in order to get your home sold.
Great point Angie and I don't know if I would describe you as a tech nerd and I say that is an endearing term tech nerds. We do the nerds would rule the world one day and they do these days that's for sure. And I may be wrong in classifying you as not being a tech nerd but I know you've hired a lot of tech nerds to help with your efforts and that's another I try to look for.
Oh yeah yeah. I cannot take the claim to fame on understanding what's happening on the back end of everything online but it's having those resources and those connections and you know marketing dollars I spend in having a lady who specializes in social media. You know we have someone who manages our Web site. You know there's really a lot that goes into branding and selling homes on the Internet. It goes into as far as you know Internet use for lead sources as far as getting buyers and also to help get homes sold. So you want to make sure that you are working with someone who you know is a tech nerd but also tech savvy. I would say and just stay in on top of the market as far as what's happening. The new and greatest features I have a lot of secrets and things that I implement and do of course I'm not going to just share all of those on this show but our team we do a lot of the. From where. Like a buyer search in online ways to lead capture them. Really neat tools and systems to stay in front of them. We do a lot of great things when it comes to marketing homes in order to get the most traffic into those homes. So yeah having a tech nerd that's great are not necessarily a tech nerd but someone w who is tech savvy and who can find and knows those resources in order to you know really take full advantage of the Internet because that's the number one place you know for real estate is the internet.
Just make sure they embrace the power of the technology. Yes yes yes. Last but not least you want someone who is an excellent communicator. It may seem basic but extremely important communication communication communication.
Yeah. You know you want someone who is clear concise. You know my saying is always that hey I will 100 percent respond to you back in 24 hours. You know oftentimes it's within minutes. But you know set that expectation up. All right. At max this is my response time only to just surprise them when I call them a lot sooner. But you know you want someone who is easy to communicate with. They get to the point too. It always drives me crazy when I'm talking with someone and they are very long winded and they just kind of talked in circles describing their John G. I'm I can be long winded sometimes too but the thing that drives me crazy is you know they talk in circles and they never answer your question. Right. Yeah I mean it could have been a one word answer and instead they took you know they read a story to you to get to the bottom point. So yeah you want someone who's excellent communicator and that depends on the type of communication preference you prefer as well. You know I have one person I want a listing appointment with the other day and he said you know Andy the reason why I finally responded to you was because you tax me. He said I got calls from you I got calls from other agents but there was something in a text message that you sent to me that which is different from the rest. And I hate talking on the phone. And I was happy to respond to your text message. So everyone communicates in a different way as well. Maybe it's by text by email by call whatever is best you know proposed for you as the client.
Again excellent communication is certainly key. And what I find fascinating about that Angie is you're just willing to meet people where they're comfortable. So you're not going to force them into the bubble where you feel most comfortable you're going to meet them where they feel comfortable using some of these things that we've talked about savvy ness you know the tech piece of that in fact that's a great segway into you know talking about if you're thinking about especially selling a home in the near future. You talk about kind of a cool tech piece that you and your team have been able to develop to help people kind of find out what their home value might be it's a really good way to start the selling process for somebody.
Yes sure thing. So you know typically whenever someone is considering selling the number one thing they want to know is what could they sell their home for as far as a price point. So if you are thinking about selling your home and you want to get an idea of what you could sell your home for in today's market we would love to share our tech tool with you. And so it's as simple as pulling out your smartphone. Once again we want really techie with that smartphone you can just text the word listing to the phone number 5 5 5 8 8 8. And from there we will respond back to your text message. We are going to send you a link. Make sure that you click the link and you input your address. We need to make sure we know where you are actually living or the home that you're inquiring about. So once again if you are thinking about selling your home and you want to get an idea of what you could sell your home for in today's market in 2019 just text the word listing to the phone number 5 by 5 8 8 8.
That's all you have to do it starts with a simple text and then you can go from there. But find out that initial estimate of your potential home value just text the word listing to the number of 5 5 5 8 8 8.
That's all you have to do. Just text listing Elias TNG to the number 5 5 5 8 8 8. We'll text right back with instructions to find out that potential home value only takes a few seconds to do it. Text the word listing to 5 5 5 8 8 8.
This is the savvy real tour with Angie Cole and there's more on the way today. Sandy
Let's shine a little light on some of the Triangle's best areas right here on the neighborhood spotlight.
The neighborhood spotlights moment of the show where we get to kind of celebrate or explore a nook and cranny of the triangle. And Andrew introduces us to new neighborhoods all the time throughout the area that maybe we've never driven through maybe we've never explored before.
And we get the chance to learn a little bit about a particular area of our community. So Angie where are you taking us this week.
Yeah. So I thought I would focus on where our feature listening of the week is located over in Vernon place. So this neighborhood is North North Wake Forest. OK so up off of a bold run Hill Road so very north of Wake Forest and a burn in place is a neighborhood built by Smith Douglas builders. They have homes ranging from 2000 square feet up to about 4000 square feet all single family homes. They bring a price point I would say around 300000 up to the highest price point one I believe was 430. And then all of the homes are brand new construction so they started construction in 2017. They are right on the very end of a construction actually de-listing that I have active and on the market at 2 3 3 DLC way in Wake Forest. That is the last home that is being built in that neighborhood that is actually a spec home so it's ready to move in but in burn place. The one thing that I love about the neighborhood is how spaced out all of the homes are all of the homes sit on you know an acre plus lots. So great size you know homes along with a lot of just yard space you know a lot of great trees throughout the neighborhood as well. It is very mature even though it's still a brand new neighborhood. So yeah the lot sizes are wonderful in Vernon place.
Very cool area to live in up there. I mean if you are you know a nature lover you're just so close to false lake and just lots of good lakes around there and if you do any boating or kayaking or anything like that you're just such an easy access to that all that kind of stuff.
So you yep you're 100 percent right.
Pretty area up there. And if you want to find out more information about that neighborhood a great way to do that is to give Angie and her team a call. You can call or text Angie directly at 9 1 9 5 3 8 64 77. Ask questions about this neighborhood or maybe if it's a different area that you're looking to move to here in the Triangle. Angie knows all the areas very well. And you can learn about different nooks and crannies when working with the team 9 1 9 5 3 8 64 77 caller text that number to reach Angie and the Echo Realty team.
We're coming up on today's show. That's the neighborhood spotlight. And this is the savvy real toy
It's time for the mailbag. We want to hear from you.
Berta says I'm trying to do tons of research before I choose a real tour to work with. So my home. And buy my next one.
I have read lots of online reviews. I've tried to pay attention to which agents in the area have savvy marketing practices and I've had three friends give me recommendations on agents they trust. But now I'm finding it actually hard to make a decision with all this information. Do you have any suggestions on how I can narrow this down to one and get off the pot.
I love get off the pot. Okay so I personally think that if you do three interviews that's plenty okay but it's very important to make sure that you compare their marketing their pricing strategy and then just overall personality fit. You know there might be two real estate agents that you feel like are the exact for the most part they both gave you kind of the same price point they had you know comparables to justify that their marketing is in line with each other. But you know it's really important to make sure that you feel like personality wise that person's a good fit for you because what I always say is once you start working with a real estate agent you're married to them you really are married to them. From the initial conversation through closing so make sure it's someone that you enjoy working with because you want to make sure that it's a fun experience. You know you want to make sure that they're looking out for you in your best interest but also it's an enjoyable process for you. But the big thing to me is really marketing. You'll be amazed if you go and you interview two or three agents and you ask them about their marketing plan. The difference between those marketing plans. I know our team here at Echo reality our marketing plan is stellar.
I mean every single time that I sit down with a seller they are just like wow you know when I get done telling my marketing plan they you know I ask them Hey what questions do you have and they say none like you answered I'm all right but I feel like sellers oftentimes they're unaware or they are kind of oblivious to understanding everything that a real estate agent should be just because they haven't asked us questions. So make sure that you're digging deep in your truly understanding a marketing plan. Also make sure Berta that you do not go with the agent that gives you the best price. Unfortunately there are agents in our market that will just give you whatever number you want to hear so they can put a sign in your yard. You want to make sure that an agent is being honest with you and they are educating you on the values of your home in your market because an agent says hey I can sell your home at hundred thousand but it's really only worth 175. That's an agent that you will just be mad at and the feature and ticked off because they wasted your time. So make sure that there's justification behind the pricing and you have someone who's been honest and real with you.
It sounds to me Berta like you have certainly done some good research and maybe you're finding the reason that you've done so much is because you're finding a couple that you did like maybe they all seem a bit equal. And so if they all start to seem a bit equal on the whole it sounds like you're saying Angie now just focus on maybe the most important thing and that's the marketing plan and see who rises above you know the other in that category.
Yeah. Yeah. A hundred percent agree because I mean there's some some agents that will just stick it in MLS. They put a sign in the yard and they pretty much pray and hope that it gets sold. But you need an agent that's going to do a lot more than just sticking your home in MLS. So make sure that you're digging deep and understanding the total market and plan and what they will do to drive traffic to your home and get it sold.
You've been listening to the savvy real tour podcast. I'm Walter store Holt alongside Angie Cole. She's the owner and broker in charge of ACO realty here in the Triangle and if you have questions for Angie we invite you to go online to a cold realty dot com. Listen to past podcast episodes on the Web site read the blog and all the great information including the option to find a home right there on the website. That's a cold reality dot com and you can also call ante with your questions. 9 1 9 5 7 8 31 28.
The above audio transcript of "PODCAST 035 - IMPORTANT AGENT TRAITS - ANGIE COLE.mp3" was transcribed by the best audio transcription service called Sonix. If you have to convert audio to text in 2019, then you should try Sonix. Transcribing audio files is painful. Sonix makes it fast, easy, and affordable. I love using Sonix to transcribe my audio files.