Home Upgrades Millennials Are Not Looking For When Buying
Posted by Angie Cole on Thursday, October 10, 2019 at 5:00 AM
By Angie Cole / October 10, 2019
Comment
The Savvy Synopsis
With more and more millennials becoming home buyers, it's time to start considering their wants and needs when you prepare to sell your house. We'll run through a list of areas that you might be able to ignore and save money because it actually fits the buyer's preferences better.
Are you getting close to listing your house for sale? Are you working on those last minute repairs and upgrades so that your home will stand out to buyers?
If so, keep in mind that your buyer might be a millennial. As that generation continues to grow older, more and more of them are purchasing homes. That's why it's important to consider their preferences and needs before you try to make your home look and feel like a traditional property.
On this episode, Angie Cole will walk us through five improvements that you might be able to ignore or avoid. Upgrades like landscaping and new carpet might not be necessary. And that formal dining room that always anchors a home could become a relic of the past.
These are all things you need to consider when selling your house and it's something a real estate agent can assist you with. Our team tries to work with sellers before they list to make sure they are making the best use of their money to get the highest return at closing.
Listen to the full episode to hear more about these new buyers and use the timestamps below to hear a particular segment.
0:38 – Introducing today's topic of upgrades millennials don't prefer when buying a house.
1:01 – First upgrade: over the top landscaping.
3:48 – Are there some easy landscaping updates you can do?
4:34 – Next upgrade: A formal dining room isn't always necessary.
6:40 – One trend that has popped up in recent years is eating more in the kitchen.
7:44 – Another upgrade: A designated floor plan.
8:56 – Another upgrade: Don't bother putting in new carpet.
11:24 – Last upgrade: Don't upgrade memorabilia or game rooms.
13:05 – Real estate agents can help you decide which upgrades are needed on your home before you list it.
Get In Touch:
Subscribe:
Apple Podcasts - Google Podcasts - Spotify - Stitcher
The Host:
Angie Cole - Contact - Call: 919-538-6477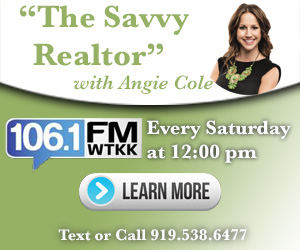 Show Transcription:
Note: This is an automated transcription. Please forgive the robots as they tend to make some (a lot of) mistakes...
Speaker 1:
It's time for the savvy real tour podcast. I'm Walter Shorholt alongside Angie Cole, the owner and broker in charge of a Cole Realty serving you throughout the triangle, teaching you about the ins and outs when it comes to buying or selling a home. You can find a team online by going to eight Cole realty.com that's a C O L E [inaudible] dot com or by calling (919) 578-3128 that's (919) 578-3128 and now it's time for one of the top real tours in the triangle, Angie Cole and the Saturday real tour podcast. Well, and you want to spend a few minutes on today's show talking about millennials and some of the upgrades that they don't want you to make to your home if you're going to be selling it to them in the near future. And I thought we could walk through this list that I found, see if you agree with him. Are we seeing these preferences in our area as well and see what we can uncover here?

Speaker 1:
That sound good to you? Yeah, it sounds like a plan. Let's do it. First one is over the top landscaping. I guess this comes down to maintenance. They don't want to have to maintain, I mean who doesn't want the, the view or the picture of, you know, that really well landscaped yard. But yeah, I get it though. I love a beautiful yard, but unless I have the means to pay for someone to do it, everything would die on me. Um, so maintaining that yard and that beautiful, you know, over the top landscaping might not be, you know, the millennial might not be in the position to do so. And also just the time in the, you know, it takes in your, your time investment into something like that. I, I feel like, you know, kind of a well more seasoned generation prefers more of the over the top landscaping because they have the time to enjoy, you know, getting out there and you know, pulling the leads, pruning all that good stuff.

Speaker 1:
And that's something they might enjoy a little bit more than the millennial would. And this is not millennials across the board, but you know, I can see how this would be true for them. Yeah, I think it makes sense. You know, we, we bought our home in Raleigh last year and it's definitely more yard than we'd maintained before. And so, you know, it's been an adjustment and there was a gorgeous garden in this home when we moved in, but there was also a lot of interior work that we've been doing and working on, so we haven't been able to really keep up with the garden areas as that. Oh yeah. Well, no, no, don't, don't worry. We're, we're gonna revitalize the garden and I mean, we, it would look beautiful this summer. It's just got a little overgrown and, you know, just, it's gonna need a little bit of elbow grease to get it back to its former glory.

Speaker:
So we'll, uh, we'll, we'll spend that now that we've kind of the, you know, finish some of the fixes in the inside of the house and got some paint on the walls and, you know, made it our own, uh, as everybody does when they get a home. It's a, I believe now we're ready to start focusing on the outside, but we enjoy it. We, uh, Connie and I call it our chip and Joanna Sunday afternoons, we go out there and she's, she's Mo and she loves to most, I'm like, go for it. She's mowing, I'm weed whacking and blowing the, blowing the decks off and all that kind of stuff and we're spreading out, you know, uh, soil and grass and seeding and you know, all the good stuff. And, you know, it takes a couple hours, but it's a lot of fun. Get some outdoors and so it's something we've actually found. Yeah.

Speaker:
Yeah. You've really enjoyed. Yeah. And I, you know, and, and many of us do, but I do feel like probably the average millennial, you know, is just more on the go, you know, busy lifestyles, you know, they don't take the time to kind of sit back and breathe in that fresh air and enjoy the outdoors of upcoming, you know, their landscaping.

Speaker:
Yeah. Yeah. But so I can see why that's definitely a challenge for some folks. You want to make the outside of your house as appealing as possible, but in doing so, you can create more maintenance for the next buyer and that can be attractive for some people. So, yeah. Very true. Good to evaluate that. If somebody is trying to make it more attractive and you, are there some easy landscaping things people can do? I mean, is it more so focused right around the home just right over that front curb appeal or the [inaudible]?

Speaker:
Yeah, just, you know, some simple, you know, bushes, a tree, you know, I think the things that can be a little, I don't know, just it seem to be busy or a lot more added work will be the addition of all the flowers and things you have to, you know, prune and maintain, you know, but just putting in, you know, nice landscaping that really doesn't need work, doesn't need to be watered. You know, I, I think that's the route to go.

Speaker:
You can also go to a, you know, a nursery or landscape or something like that and ask them what are low maintenance, uh, plants, bushes, uh, low maintenance options that I can choose, they'll be able to help you out there. Uh, another, this one surprised me a little bit. A formal dining room is not really in demand among the millennial generation. They say, you know, if you don't have a formal dining room, don't go out of your way to try and, you know, make one and present one.

Speaker:
You know, I do feel like at a certain size of a home, once we get to a certain size, it's really a must though, just from a resale standpoint, even though it might never be used. But you know, I agree with this too. I just feel like this day and age, you know, especially in millennials, they're not using that space like they used to. Um, I've seen a lot of millennials actually turned the formal dining room into more of an office or a playroom, you know, for their little ones, but not so much for a formal gathering or entertaining or a formal dining room. It's probably the prettiest room in that is that, yeah. You know, in our, we have went to, and ours is fabulous, but I mean it's sad to say we might use it once or twice a year, you know, when we host Christmas or something like that. But I, you know, I feel like the baby boomers, you know, that was a space they used. I remember growing up going to my grandparents' house every single weekend, you know, my grandmother, she would cook dinner for us or lunch for us and we would sit in the form, well, nine room. I mean this was a weekly thing, but now, you know, like I said, we might use ours once or twice a year.

Speaker:
Yeah. I, I like eating in the formal, in the formal dining room. I think it's, it's, it's fun. It forces you to talk to one another, you know, all good stuff. But I am a baby boomer. I had heart problems.

Speaker:
Hi. I was going to say, you're throwing off these numbers and you are a millennial. Right. And you're totally like skewing everything right now. Yup. Yeah.

Speaker:
Say we love eating the casual dinners too though. Don't get me wrong. We'll, we're eating, we're eating on the porch almost every night or you know, kick them back in the, uh, on the couch in the living room too. But it's fun to, every once in a while I'll get back in that dining or in [inaudible].

Speaker:
Sure. Yeah. Yeah. And we, I mean we have like an Eden kitchen area and also like a bar counter top. So, you know, we're always, we're in the kitchen and eating together, but it's not, you know, separated. Like our formal dining room is truly separated from the kitchen and it's fancy. I don't that mess in my place settings. I don't want to do things that are on the table. It's decorated nicely.

Speaker:
So have one trend that does seem to have really popped up over the years has been eating in the kitchen.

Speaker:
Yes. Not all, but many, especially most of the new builds, I tend to find that they now have an eating kitchen. So it's a designated area with a smaller space for a, you know, a table. Um, maybe you know enough space to put four to six chairs or something smaller or also like an Island with a bar countertop. You know, that's been something that has really been a trend, you know, this day and age with the new builds because you know, people can kind of hang out why one person's cooking, others can hang out in that kitchen area. Yeah, I mean, I know I've enjoyed that kind of setup.

Speaker:
Oh, absolutely. Yup. So that's the a, another big one there. The formal dining room. Interesting debate. If you're looking to, uh, you know, create one in your home may not be necessary depending on who you're marketing to. Great question to ask a real tour like Angie Cole, if you're just tuning into the show, we're talking to Angie Cole of a cold Realty. This is the savvy real tour radio show, helping you in the triangle. Better prepare for, uh, selling or buying your next home. Something else millennials say they don't want in terms of upgrades and G a is a designated floor plan. What now? I am, some people are probably don't really know what a designated floor plan is in the first place.

Speaker:
Yeah. I w I was going to um, say to me a designated a floor plan is the opposite of being open. Is that correct? Um, so I would, the way I read this would be, you know, older homes, they really had a more of designate a room spaces like they are more blocked off. And so here's our living room, here's our dining room, here's our formal living room, here's our kitchen. And there was, you know, a designated wall in between all these spaces will, well this day and age, you know, the, the newer build homes, they're going towards the open concept. And I feel like millennials, you know, that's what they want because, because they enjoy entertaining, having friends, having family over where they can see everyone at once. Someone can be in the kitchen while they still hang out with others and deliver him. So it's that open concept that I feel like most millennials prefer versus more of the traditional style floor plan.

Speaker:
Yeah, I think you're exactly right there and that's a uneasy one to talk about for sure. Uh, for awhile I feel like open floor plans had been the way to go in most people's minds, especially millennial generation for sure. A brand new carpeting is something else. Millennials say, you know what, don't bother putting in brand new carpeting cause they've referred the hardwoods these days.

Speaker:
You know, and I, I agree, but I'm going to play devil's advocate here because with preferring hardwoods 100% everyone these this day and age, they want the hardwoods, you know, millennials and you know, other, you know, generations. So I wouldn't say that's just millennials wanting that, but I tend to find that millennials most of all are definitely nitpicky in regards to wanting something move in ready. And so I would switch out your carpet if your carpet is dirty, if it's dingy, if it's not so much, move in ready. I would still put in just a low builder grade carpet so it has that fresh look and then that's up to the millennial, the new buyer if they want to pull that up and install hardwoods. But I have worked many times with millennials who they walk in and just because the walls need to be repainted, they walk out or because there's dingy carpet, they can't look over it. So um, I, I personally would actually suggest still installing new carpet because they want something that's move in ready.

Speaker:
Yeah, that's a great point. And now if it's, there's a difference between like, okay, the bedroom has some older carpet in it, let's just throw some nice fresh new carpet in there because it's still appropriate to have carpet in a bedroom and you may actually be taking a big risk putting like hardwoods in the bedroom. Some people may not like that style, but it's like the entire first floor needs new carpet. That might be the time to say, you know what, maybe we should pick a different type of flooring.

Speaker:
I 100% agree with you because once again, I mean that can look like a big task for a buyer to take on. You know, when they're walking through a home, they start to point out all of the negatives instead of looking at the positives and if all of a sudden it's, Oh flooring's going to cost me, you know, 10 to $15,000 to redo all of this. Now they might go onto the next time. So if it's a big space, it might be good to go ahead and put in that upgrade of hardwoods, but you also have to make sure that it makes sense as far as the money invested, will you get that? Because hardwoods is one of those things that we all love, but the amount that it costs you to install, you might not get 100% of value back out of it. Oftentimes I say items like that or something for you to enjoy, but not necessarily put in and get a a hundred percent plus back on your return. So be careful there, but that's where, you know, when I'm doing a walk through, I can give you the guidance on what we would suggest to improve and keep. As is

Speaker:
great point Angie. Last but not least, millennials say they don't want you to upgrade things like memorabilia and game rooms. Those are going out of style and they say to go digital now instead of showcasing, you know, stuff.

Speaker:
Yeah I do agree here. You know we say, you know, maybe use those spaces for more of a theater room, but instead of you know, showcasing your ping pong table or your arcade set, you know, those things are cool and they're neat to look at. But I, I just feel like this day, you know, everything is really digital. It's online. They're using their phones, they're using their iPads, you know, they have these huge big screen TVs which are probably more important to them versus you know, those old school kind of arcade games that used to be part of a bonus or game room.

Speaker:
It is true. We've traded playing actual ping pong for just playing ping pong on the we and it does take up a lot less square footage to have the digital version of ping pong and,

Speaker:
but you know, a good old school ping pong game is,

Speaker:
it's a blast. They can't beat it. Yeah. Very true. Interesting to look at all of these different preferences that millennials have or don't have when it comes to upgrading homes. And Angie, I know that these are just some of the things that you help people evaluate when they're one looking to buy and you get this, this exposure, but two, when you're helping sellers walk through these types of choices. I know when we sold our home with you guys, there were lots of things we were trying to decide on, do we replace the hardwoods before we sell w do we need to paint this? Do we need to do this to the outside? And you know, there it was. It was great to get the feedback of yes, let's change this. No, that's not as important. Kind of running it through that filter is so important. It's all part of the selling process.

Speaker:
Most offline. You know, all too often I get a call from a potential seller who says, we want you to come out here and meet with us per listing presentation, but before doing so, we want to make sure we get our home perfect. We don't want you to come in until we're ready for you to truly, you'll walk through and it's perfect. Just as we want it. And I, you know, I always tell them it's the complete opposite. Let us come in now, give you feedback on things. We suggest that you improve. You change things that we state should stay as is because we want to give you that guidance so you're not wasting money in doing these types of improvements or upgrades that aren't needed. Because so often, you know, there's too many times I see where someone will go in and they just start upgrading to the max because they think that that's going to get them the highest price point where that actually can hurt you. Because if you over improve, then you are going to be the nicest, most expensive home in that block or in that neighborhood, and you won't get your money back out of it. So whenever you're thinking about selling your home from the start, let us come in and do a walkthrough of your home and give you feedback in its current condition and then we can take it from there.

Speaker:
You've been listening to the savvy real tour podcast. I'm Walter [inaudible] alongside Angie Cole. She's the owner and broker in charge of Eiko Realty here in the triangle. And if you have questions for Angie, we invite you to go online to a Cole realty.com listen to past podcast episodes on the website, read the blog and all the great information, including the option to find a home right there on the website. That's a Cole realty.com and you can also call Angie with your questions. (919) 578-3128