Podcast #5: In The News - Increasing Inventory
Posted by Angie Cole on Thursday, August 16, 2018 at 5:00 AM
By Angie Cole / August 16, 2018
Comment

The Savvy Synopsis
Increasing inventory could affect potential buyers in a seller's market. Angie explains and takes your questions on "locking in" mortgages and disclosing necessary repairs on a listing.
Download this episode (right click and save)
Featured Foundations:
A Cole Realty Rundown.
4:59 - Angie celebrates five closings including one with first-time home buyers Brian and Sarah.
Mailbag.
17:06 - Lisa asks what it means to "lock in" a mortgage.
Answer: There are a couple of different directions we could go with this answer. The first includes "locking in" your mortgage rate. Once you go under contract on a specific property and give that contract to your lender, you typically lock in that rate. However, you don't have to lock in your mortgage immediately. We recommend taking the advice of your lender and locking in when they feel it's the appropriate time. Your lender tends to know the market better than your realtor. Once you lock in your interest rate, that solidifies it forever, so long as you don't have an adjustable rate mortgage. Locking into your mortgage could also mean choosing a lender. However, that's a bit of a process, and we'd suggest connecting with a real estate agent first. Your realtor can recommend preferred lenders, and we trust them because we've worked with them for years and feel they provide the best service. After all, there are many different types of mortgages, and your lender can help you to sort through the terminology.
20:20 - Kim is waiting to list her home. She says she just had her septic tank pumped out, and that the gentleman who did the job notified her of a crack. Kim doesn't want to incur the cost of repairs and wants to know whether she can let it go. She also wants to know who will be responsible for fixing the crack if it passes inspection.
Answer: If you're selling your home and realize the problem, go ahead and get it fixed. This is called a "material fact," and you'd need to disclose it to different buyers. On the flipside, any buying side would consider that to be a red flag. Therefore, we suggest you go ahead and fix any issue you find out about. It's easier to clean up the mess now than to lose a potential sell.
In The News: Increasing Inventory.
1:58 - We're very much in a seller's market, and it's in part due to low inventory. However, in May of 2018, we actually saw an increase in inventory for the first time in 44 months. That's right, for more than three and a half years, we saw a decrease in inventory. Low inventory creates an incredibly tough market for buyers as it sends prices through the roof. Buyers should enjoy a slight respite due to the recent increase.
We get this data from the Raleigh Realtor Association. The association gathers this data from Johnston, Wake, Durham, and Orange counties.
For now, we don't think this will lead to a new market trend. Overall, the market seems to be rather stagnant at the moment, and we are still seeing relatively low levels of inventory. However, during that month, we saw a slight bump in the market trajectory.
Getting To Know You.
12:28 - Angie answers a whacky question and explains which one event in history she would like to watch on video.
Buying Blitz.
10:16 - Vicki DiProfio of A Cole Realty answers a question on when to begin the process of searching for a home.
Get In Touch:
More From Angie:
The host: Angie - Contact - Call: 919-538-6477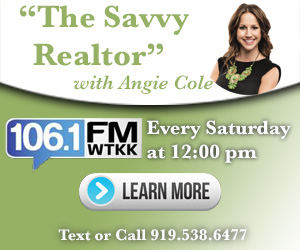 Subscribe To The "Savvy Realtor" Podcast: