Buying A House At 16: Tips For Getting Into Real Estate
Posted by Angie Cole on Thursday, February 6, 2020 at 5:00 AM
By Angie Cole / February 6, 2020
Comment
The Savvy Synopsis
Have you ever thought about buying a home in hopes of either flipping it or renting it out? What kind of personality traits or vendors are important to have ahead of time?
Buying a home is more than just a place to live--it's also a financial strategy! In today's episode of The Savvy Realtor podcast, Angie answers two questions from listeners who want to make wise choices when it comes to investing in real estate.
Trent in Raleigh is only 16 years old but has been running a successful business, saving diligently, and wants to look at buying a home near NC State to live in when he goes through school. Are there any limitations when it comes to buying a home when you're young?
Angie says that in order to buy a home, you must be of legal age. So, someone else (such as a parent) would need to officially purchase the home in case something happens. Or, Trent can wait until he is older. That said, it is never too soon to be smart with your money and think about the possibility of investing in real estate. Saving money now is always a wise decision as you think toward the future.
Amy in Durham would like to invest in real estate and make money off of rental properties. What kinds of personality traits are good for someone looking to get into real estate and how should she start?
It's important to be savvy and good with numbers when it comes to looking for investments. Angie says to think about your ROI long-term. Getting assistance from a real estate agent will help to find a property in an area that might be popular for tenants and understands negotiations to make a smart purchase. You might also want to find a reliable plumber, electrician, general contractor, and cleaner to help in case something needs to get fixed.
Listen to the full episode or click on the timestamps below to hear more about investing in real estate.
0:38 - Mailbag: Can you buy a home before you turn 18?
3:26 - Mailbag: When buying investment properties, what kind of personality traits are important to have?
3:54 - The benefits of investing in real estate.
4:58 - Find a real estate agent to guide you through the process.
5:57 - You may want to have several vendors who can help if something breaks in the home.
Get In Touch:
Subscribe:
Apple Podcasts - Google Podcasts - Spotify - Stitcher
The Host:
Angie Cole - Contact - Call: 919-538-6477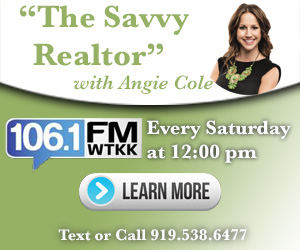 Show Transcription:
Note: This is an automated transcription. Please forgive the robots as they tend to make some (a lot of) mistakes...
Speaker 1: (00:02)
It's time for the savvy real tour podcast. I'm Walter Storholt alongside Angie Cole, the owner and broker in charge of ACole Realty serving you throughout the triangle, teaching you about the ins and outs when it comes to buying or selling a home. You can find the team online by going to eight Cole realty.com that's a C O L E realty.com or by calling (919) 578-3128 that's (919) 578-3128 and now it's time for one of the top real tours in the triangle, Angie Cole and the savvy real tour podcast. Okay, we've got a question here from Trent to kick us off this week and uh, Trent is in Raleigh and this is a good question. Angie. Trent says, hello, I'm only 16 but have been running a successful local business the past few years. I've been saving diligently and I'd like to purchase my first property. I'm thinking something near NC state that I can live in during school. Have you worked with someone under 18 before and are there any limitations when it comes to buying a home for a younger person?

Speaker 2: (01:10)
Yeah. Trans say, um, first of all, I mean, congrats. Um, I can't say that I was in the same place that you are being 16. So you know, that is just amazing and, and accomplishment that you are in a place where you are ready to purchase your first home. So that's super, super smart. You know, pay for your own investment. Don't pay for someone else's by leasing right now we have helped, um, some, you know, younger age, uh, you know, buyers before, but in order to actually buy a home, you must be of legal age. Um, and so, you know, you can have, you know, some input on it of course, maybe you know, financially or whatnot, but it actually needs to be someone of legal age limit who would then purchase the home. Um, just because if something were to happen to them, they would fall back on you.

Speaker 2: (01:56)
And as not being a someone of legal age being 18, you cannot take on those responsibilities. So, you know, maybe a thought, it's maybe one of your, um, parents maybe that they could assist you, uh, with doing the loan under their name if you do plan on getting financing and had the deeded into their name. But yes, you need to at least be 18 years of age to actually have your name as being owner on the property. Man, that is a bummer. I know, I know, I'm sorry, but I mean, but once again, it is never too soon to be smart with your money and put it towards an investment like real estate. And I'm only assuming that, you know, your, your parents would be happy to assist you, you know, with that process. That's amazing.

Speaker 1: (02:38)
Yeah, that's a great question, Trent. Congratulations. I'm wondering what the, uh, what the business is a and J we talking about, you know, just a lot of lawn mowing money here or something like, uh, like a true business that you've started, are going to continue to do while you're in school. Very interesting. Very, for sure. So great question, Trent. Thanks for sending that one. And it sounds like got away a little bit longer before we can officially pull the trigger on buying your own properties. But keep saving and get ready to invest when you hit that Mark, because you know, unless you're going to college this year, you know, you might be able to still get that benefit of having a place that you're living in, that you own during your college years versus you know, having to, uh, you know, rent from somebody else. So it's a great strategy and a very interesting to hear about your pursuits there. Great question. Thanks a lot for that trim. We've got other question here. Angie. This one's from Amy. Amy is in Durham and says, I'd like to invest in real estate and make income off of rental properties. What kinds of personality traits are good for people looking to get into that? And do you have any suggestions for how a beginner can get started?

Speaker 2: (03:41)
That's a great question, Amy. And you know, that's something that I see a lot of enjoyable individuals, you know, focus on. Um, you know, it's always smart to if you have the means to do so, um, and you can buy of course at a lower rate. Um, it's great to, you know, invest in properties, whether it be for flipping or longterm rentals. Um, you know, ages. It's not a quick fix. Right. Um, but over time you'll be building your portfolio and you know, longterm, you know, maybe you decide to sell off one of those properties because it's appreciated a lot or maybe you eventually pay it off. So now it's just you're receiving all of that income, you know, collected from the leases. So super, super smart. But as far as personality traits, you know, I would say someone that is savvy, um, you know, someone who understands numbers.

Speaker 2: (04:28)
Numbers is a big part when it comes to, you know, looking for investments and understanding, you know, the ROI, the return on investment, the profitability, you know, you need to make sure that you are great with numbers and there's a lot of spreadsheets for stuff like that where you can input all of the data just to make sure that it is a good purchase for you longterm. But above and beyond an AB, I would definitely, you know, get the assistance of a real estate agent who is also savvy in investments. You know, you want to make sure that someone is guiding you not only on some great locations, which would probably be popular for tenants. Um, you know, you want someone who has been down that route, understands the contract to close and negotiations and who can really lead you in the right direction to make sure that you are able to build that portfolio and make smart buys.

Speaker 1: (05:19)
Yeah. So important to be able to do that. And, uh, unfortunately Amy, a lot of people get into this whole process without the proper guidance. And that's what leads to disappointment and frustrations and kind of, you know, being a landlord and turning properties into income property. So just make sure that you've got some good counsel through the different parts of the process and that you kind of embody some of those traits that Angie's talking about there. You know, it takes a little a perseverance sometimes to have to, you know, go fix a toilet in two in the morning or something like that for your tenant or a, you know, having the means to hire a company to do.

Speaker 2: (05:53)
Yeah, I was going to say, you know, it depends on how much time you have to invest. You know, you might also want to get, you know, those vendors in place. So, you know, a general contractor, you know, a plumber, electrician, a cleaner, just so you know, whenever you need something really quick, fixed and completed, you know, you aren't always the go to.

Speaker 1: (06:12)
You've been listening to the savvy real tour podcast. I'm Walter store Holt alongside Angie Cole. She's the owner. And broker in charge of Aiko Realty here in the triangle. And if you have questions for Angie, we invite you to go online to a Cole realty.com listen to past podcast episodes on the website, read the blog and all the great information, including the option to find a home right there on the website. That's a Cole realty.com and you can also call Angie with your questions. (919) 578-3128