Podcast #7: Mailbag - Long Distance House Hunting, Competing With New Homes, And Determining A Listing Price
Posted by Angie Cole on Thursday, August 30, 2018 at 5:00 AM
By Angie Cole / August 30, 2018
Comment

The Savvy Synopsis
We'll feature your questions on strategies for long-distance house hunting, selling an older home in a neighborhood full of new homes, and determining a house's listing price.
Download this episode (right click and save)
Featured Foundations:
Mailbag.
1:27 - Corey wants to relocate to RDU. He currently lives about eight hours away and wants to know the best way to house hunt from afar.
Answer: This is pretty typical of folks moving to the Triangle. We suggest you connect with one of our buyer specialists who can set you up with an automated search. This helps you narrow down your choices to a certain price range, square footage, bedroom count, etc...This helps you determine what each area of town has to offer. It will also help you to figure out what kind of home you'd like to purchase. Once you've narrowed down your options, pick a specific weekend to travel to the area and knock out as many showings as possible. Make it a goal to find a home that weekend. If you're coming multiple weekends, your first choice could be gone by the time you get back to the area.
14:26 - Larry says he's lived in Holly Springs for a few years, and he's trying to sell. He wants to know how his older home can compete with newer houses in the neighborhood.
Answer: There are indeed several preexisting neighborhoods where developers are coming in and adding new homes. To compete, you need to market your home to the max. Stage your home correctly, and get a professional photographer. You also need to price your home correctly. You can't price your home as a developer would a new build. We find you typically need to price your house about $10,000 less to make it stand out.
27:14 - Joseph asks how to determine the list price for a home you're going to sell.
Answer: It all depends on your location. We start by looking at the prices other homes have sold for in a neighborhood. Occassionally, we'll venture out of the neighborhood, but we typically stay within a one or two-mile radius of the house we're trying to list. We then compare the home to other houses of similar square footage, style, and age. Finally, we get nitpicky and examine the upgrades in one home versus another. Using that criteria, we're able to determine the value of a house.
Stage This House.
24:00 - Amber Cole of Stage Presence answers a question from Rush who says "I want to de-clutter my home, but I also want it to look like somebody lives there. How do you strike the balance?"
The Neighborhood Spotlight.
19:08 - This week we visit Shearon Farms in Wake Forest.
This neighborhood is north of 540 on the border of Wake Forest and Raleigh.
Town Home Price Point: Low $170's to high $210's.
Townhome Size: 1,500 square feet to 1,800 square feet.
They've been building for awhile and have several options including townhomes and single family homes.
This neighborhood is a great place for families. It's just down the road from Triangle Town Mall and features a swimming pool, clubhouse, and playground.
Get In Touch:
More From Angie:
The host: Angie - Contact - Call: 919-538-6477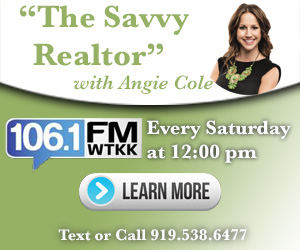 Subscribe To The "Savvy Realtor" Podcast: