Selling Your Home Before The Holidays
Posted by Angie Cole on Thursday, October 17, 2019 at 5:00 AM
By Angie Cole / October 17, 2019
Comment
The Savvy Synopsis
As you plan ahead, you might have already started thinking about the holidays. Is it too late to sell your home before then? Did you miss your chance to sell your home this year? Angie tackles this question as well as three others from the mailbag.
Have you started thinking about digging out the seasonal decorations or making holiday plans with family? Is it possible to squeeze in a move too amidst all that? Whether you are wanting to sell your home or go from a rental situation to buying a home before the end of the year, Angie brings her expert advice to answer four questions from the mailbag in this episode of The Savvy Realtor podcast.
Are you tired of renting and want to buy a house but feel unprepared for that level of responsibility? If it's your first time buying a home, you'll want to be completely at ease with the process and have a Realtor who can guide you through what to expect. Reviewing the homebuying guide is a great place to start.
As we start to think about the upcoming holidays, you may wonder if it's too late (or too cold!) to start the process of selling your home. While spring and summer is a popular time to buy a home, the Triangle is a great market to sell a home any time of year. Buyers are still actively in the market and might even be more serious during this time of year.
If you are thinking of building your home, what can a Realtor do for you? Before you can build a home, you need the land! Real estate agents can also help recommend a builder. But one of the biggest benefits of having a Realtor is having someone who can advocate for you.
Those with rental homes may decide to pursue multiple transactions at once. What does this process look like when working with a Realtor? Thankfully, Angie and her team have lots of experience working with landlords who want to buy properties and can help!
Listen to the full episode to hear all of the answers from this week's mailbag or click on the timestamps below to hear a particular question.
0:38 - Mailbag: How do you prepare to make the transition from renting to buying a home?
3:31 - Mailbag: Is it too late in the year to sell your home before the holiday?
5:03 - Mailbag: How do Realtors help people who want to build their home?
7:38 - Mailbag: What does the process look like to buy and sell multiple homes at a time?
Get In Touch:
Subscribe:
Apple Podcasts - Google Podcasts - Spotify - Stitcher
The Host:
Angie Cole - Contact - Call: 919-538-6477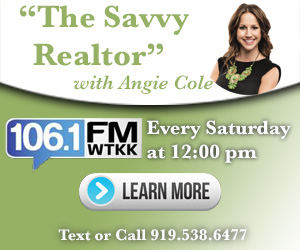 Show Transcription:
Note: This is an automated transcription. Please forgive the robots as they tend to make some (a lot of) mistakes...
Speaker 1: (00:02)
It's time for the savvy real tour podcast. I'm Walter Storholt alongside Angie Cole, the owner and broker in charge of a Cole Realty serving you throughout the triangle, teaching you about the ins and outs when it comes to buying or selling a home. You can find a team online by going to eight Cole realty.com that's a C O L E real t.com or by calling (919) 578-3128 that's (919) 578-3128 and now it's time for one of the top realtors in the triangle anti-coal and the savvy real tour podcast. Let's get things started with some of your questions. The first of which comes to us from Don in Raleigh. If you want to submit a question to be featured on the show, you can do that by contacting us through a Cole realty.com or text your question if you want. 919-5386TY-47TY-7 is that number? Don says, Angie, I'm tired of renting. I want to buy a house, but my spouse and I feel completely unprepared for that responsibility. Do you have any tips for handling the anxiety that comes along with that renter to buyer anxiety?

Speaker 2: (01:11)
Yeah, most definitely. See it's just knowing the steps in the process of buying a home and what comes next. I think that that could really, you know, eliminate any of those fears or that anxiety that you're having with the thoughts of buying a home. Um, it's more of I think the unknown. I mean that whenever I'm, I go to do something and I just don't know what's about to happen. Of course I feel that anxiety as well in that pressure. So, you know, with working with our team, we are wonderful with hand holding, always staying one step ahead of you, you know, making sure that you truly and fully understand the process from start to finish just so you don't feel lost and just overwhelmed with the process of buying a home. So having an agent that's going to once again a handhold and really guide you and walk you through the process is important. And, and we can definitely do that for you. Don.

Speaker 1: (01:59)
Great question Don. Appreciate you asking that when certainly, um, I think this would be a great case Angie, where Don would be a good fit for getting that home buying guide. You know, somebody trying to get familiar with those steps of the home buying process to get a little bit more comfortable with making that leap might be a great resource for somebody in that situation.

Speaker 2: (02:19)
Yeah, most definitely. And this is actually the same guide that we give to all of our clients when we start working with them. So it is the steps of purchasing a home from start to finish. Just so once again, like I mentioned, you are one step ahead of the game and you understand what's happening throughout the process. So if you would like to get a copy of the home buying guide, you can text the word contract to the phone number five five five eight, eight, eight. Once again to get a copy of our home buying guide, which is a downloadable guide on your smart phone. Just text the word contract to the phone number by five five eight eight eight.

Speaker 1: (02:55)
It's very easy to get that home buying guide. Once again, this is something that Angie, her team have put together for you. If you're thinking about buying a home in the near future, even if you're not a first time home buyer, still a useful resource if you haven't gone through the process in a little while, get updated on that process. Again, just text the word contract to the number five five five eight eight eight again, text the word contract to the number five five five eight eight eight and we'll take you through that process from contract to close as they say in the biz and let you know what to expect when it comes to buying your next home. Thanks for the question Don. Another one here from Sally in Holly Springs and Sally says, do you think it's too late to start selling my home this deep into the year since the holidays are coming around the corner?

Speaker 2: (03:41)
Sally, not at all. We are fortunately in an area where the triangle is always selling. So you know, maybe when going into the spring market homes might on average sell quicker. But the reason being is because there's more buyers in the market. So it's kind of a catch 22 but typically you tend to find that there's more listings on the market. So this time of year is honestly a great time to sell your home because we have lower inventory so you have less competition. Um, and I know on our end, I mean buyers are still going under contract just right and left. For example, in October, right now I believe we have 31 or 32 closings on our calendar for this month. So that means that buyers are still actively in the market and you know, they're looking for a home to purchase. So definitely is still a great time to sell your home. And I always tell our sellers too that, you know, remember the buyers that are out looking during the holidays, they're probably your serious buyers, right? Because with all of the hustle and bustle of you know, things going on with, you know, Thanksgiving with Christmas, all the different holidays, you know, I doubt there's as many looky loos right now. So the buyers that are looking are probably more of the serious buyers and that's who we want looking at your home.

Speaker 1: (04:54)
That's a great point. So yeah, it's like you're getting a higher quality buyer potentially coming through at least once you know that are serious. Like you said. That's fantastic. Stacy writing this one. She says how to real tours help people who want to build their home. My husband and I want to do that for our next home, but aren't sure if a real tour is involved or if we just need an architect. We're at the beginning stages here, obviously.

Speaker 2: (05:16)
Sure. At a real chore helping you out throughout the process. Remember when you're looking to build a home, you need to buy or find land, so, so you definitely need a real estate agent to get you set up on a land search because that's the first step when it comes to potentially building a home. We can go ahead and we can then connect you with different builders who we highly recommend. Um, I know for example, I absolutely love and adore. His name is Ron tutor with Glenwood builders who is fabulous, but we can connect you with different builders to see which builder is suited best for you. And then from there we can talk through different floor plans. We can, you know, mix up the floor plans, you know, but always having a real estate agent looking out for you and best interest is very important. Because remember, although we love our builders, they're looking out for themselves, right? And they're representing themselves as being the seller. And so you as a buyer, you need someone who is working for you on your end. And also in North Carolina, a buyer representation is absolutely free. So it's silly not to have a real estate agent that's looking out for you and being your advocate.

Speaker 1: (06:17)
So just like in a normal home sale, Angie, you're the quarterback of that process. And when it comes to new builds, it's really the same thing. You're, you're quarterbacking shepherding the whole process, organizing everybody together.

Speaker 2: (06:28)
Yeah, most definitely and you know with building a home there is a lot more involvement versus buying a resale. You know with a resale we do our inspections, we do a walk through, we negotiate a little bit in regards to repairs, but with building a new home, especially if it's a custom custom built home, there are a million design appointments that we will attend and we will go to, there's a lot of steps from start to finish to get you to the closing table. So once again, making sure that you have a real estate agent who is handholding, who is guiding you through the process and being one step ahead is very important.

Speaker 1: (07:03)
Again, if you want to get some help buying your next home, it's always important to understand the process. And Stacy, this might be a good fit for you. If you want to get Angie Kohl's home buying guide, it'd be helpful information for you today as well. You can get the home buying guide by texting the word contract to the number five, five five eight eight eight. If you're looking to buy a home in the near future. This is really helpful to get some details on these resources. Just text the word contract to the number five five five eight eight eight and we'll send you the home buying guide from Angie Cole and the team at Aiko Realty are at our last question of the week. Angie comes to us from June in Durham. June says, we're trying to decide what real tour to work with for selling our rental homes and helping us buy some new ones. Can you tell me about your experience when it comes to selling and buying more than just one or two homes for a single client at a time?

Speaker 2: (07:54)
Yeah, June, uh, we deal with this, um, many, many times and very often we have a handful of clients that we have helped various times. And with the process of, you know, dealing with more than one transaction at a time. Like you just mentioned it really, June, it's all the same. You know, whether you're buying one home, whether you're buying or selling multiple homes, we handle every single home as a different transaction. So you're still the one seller or the one client we're working with. But every transaction is an individual transaction. And I say that because every home is different, right? Based on location, based on price point, based on condition, you know, we will tweak and change up things in regards to marketing. Um, also whenever you're buying a home, you know, based on the areas you're looking in, in that price point you're considering, you know, that might, or we might need to tweak the way that we present an offer. So every transaction is different when we're representing you on the buy and the sales side when you're working with multiple transactions at once.

Speaker 1: (08:54)
Yeah. It's interesting a, you've seen this before, Angie, but, uh, people are landlords, they have rental homes and sometimes they want to do wholesale changes kind of all at once, right?

Speaker 2: (09:04)
Yeah, most definitely. And you know, there's a lot of people who like to do what's called the 10 31 exchange. Um, so maybe they have current, uh, you know, properties they're looking to sell those to take the equity out. But in order to not pay, you know, a large amount in taxes or capital gains, they put that money directly into new property. So we deal with that all the time. Once again, you know, we, we've, we've been through this process several, several times and we know what we're doing and we can definitely handhold and make sure that it's a smooth and seamless process for you.

Speaker 1: (09:33)
You've been listening to the savvy real tour podcast. I'm Walter store Holt alongside Angie Cole. She's the owner and broker in charge of Eiko Realty here in the triangle. And if you have questions for Angie, we invite you to go online to a Cole realty.com. Listen to past podcast episodes on the website, read the blog and all the great information, including the option to find a home right there on the website. That's a Cole real t.com. And you can also call Angie with your questions. (919) 578-3128