The Good News For Homebuying Right Now
Posted by Angie Cole on Thursday, May 7, 2020 at 5:00 AM
By Angie Cole / May 7, 2020
Comment
While there are a lot of hard things we're all dealing with right now, what are some of the positive things we can find amidst all this? In this episode we'll look at the silver lining and hear some ways you can still have a positive experience while buying or selling a home.
We know all about the bad news going on, but what's the good news? On today's episode of the Savvy Realtor podcast, Angie shares the ways buying or selling a home right now might be a better experience than you think. How so?
A lot of millennials are purchasing homes right now. Coronavirus has changed and caused more of the homebuying process to go online and lean on virtual tours. Millennial buyers were already used to doing a lot of online shopping and research online first though, so it hasn't deterred them from buying a home.
Some statistics say that 24 percent of homebuyers are comfortable buying a home without stepping in it in person. Is this all due to coronavirus? With the Triangle being such a popular place to move to, Angie's team have found several homes for clients in the past while doing so virtually. Whether you are far away or limited by stay-at-home orders in your county, more and more people are buying homes this way, so it's completely doable.
The number of sales went down in March, yet the home price was up. With everything going on due to coronavirus, the data from one month to the next might be more drastically different. Angie's team also saw a significant drop in showings in March, but still sold homes. Even though there were less showings, Angie found that people only did a showing if they were really serious about buying the home. The Triangle area home values are still appreciating, even now.
What does the process look like right now if you plan to list your home? Angie's team is taking all of the necessary precautions to stay safe while also helping you be prepared and ready to receive offers (sometimes even multiple offers--yes, even during coronavirus!) and sell your home.
Listen to the full episode to hear more good stuff or click on the timestamps below to hear a specific segment.
0:38 - What's a silver lining right now with current homebuyers?
3:03 - Almost a quarter of buyers are comfortable with buying a home without seeing it in person.
5:17 - March numbers revealed a dip in home sales, but the median home price was up nationally.
7:10 - Home prices in the Triangle are still appreciating.
7:55 - What does it look like to sell a home right now, during coronavirus?
Get In Touch:
Subscribe:
Apple Podcasts - Google Podcasts - Spotify - Stitcher
The Host:
Angie Cole - Contact - Call: 919-538-6477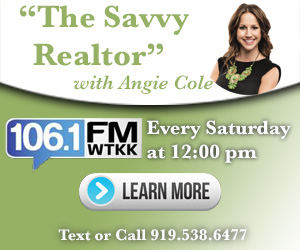 Show Transcription:
Note: This is an automated transcription. Please forgive the robots as they tend to make some (a lot of) mistakes...
Speaker 1: (00:02)
It's time for the savvy real tour podcast. I'm Walter Storholt alongside Angie Cole, the owner and broker in charge of A Cole Realty serving you throughout the triangle, teaching you about the ins and outs when it comes to buying or selling a home. You can find the team online by going to AColerealty.com that's a C O L E realty.com or by calling (919) 578-3128 that's (919) 578-3128 and now it's time for one of the top realtors in the triangle, Angie Cole and the savvy realtor podcast. You know, I've got a couple of stats and some takeaways from, you know, just kind of reading the news headlines over the last week or so since our last show, and I'm going to jump to the one that's actually the maybe the most positive and maybe is a bit of an indicator of why we're seeing some of that uptick all of a sudden.

Speaker 1: (00:54)
And you know, the Corona virus has, timing isn't all bad because it's happening in a decade in a, in a period of time where millennials are now compromising a third of the entire home buying market. And it's kind of obviously a large group of buyers who are very tech savvy and more comfortable with increased reliance on virtual tours and digital elements of the process. I'm just curious if is there ground truth to this? Are you seeing the millennials being in that group that are surging right now and are they really searching because of that technology in some ways?

Speaker 2: (01:28)
You know, it's funny you say that. Um, we are seeing a lot of millennials who are purchasing right now or selling and purchasing and doing their move up home. Um, I think a lot of it has to do also with where their savings might be. And I say that in the sense of, you know, the older generation, maybe the empty nesters or maybe you know, kind of the active adult group. A lot of their money, more than likely probably is in retirement in stocks or whatnot. And I know with like the volatility of the stock market, right. Um, I think that can have maybe the more of the act of adults, I'm a little bit more cautious about their moving the transition. Um, throughout this whole process we have only had one cancellation, one, you know, as far as being effected from the coven 19 and the couple that was affected or who decided to pull out their contract was someone who was using, you know, some of their retirement for their down payment.

Speaker 2: (02:28)
And at the very beginning of all of this mess a course like the stock market just plummeted to remember. And so it didn't make sense for them to make a move and to, you know, just really be tight when it comes to funds, when that's what they're depending on longterm. You know, luckily we've seen an up pick in the um, in the stock market and you know, things are looking a lot more positive. Um, but I do tend to see right now it is the millennials more that are purchasing and selling. Um, we are seeing that on our end as well.

Speaker 1: (02:58)
So some local ground truth to that. Uh, that takeaway. Interesting, very interesting. Kind of piggybacking on that. I saw one survey that said 24%. Okay. So let's just call it a quarter of buyers would be perfectly comfortable buying a home without seeing it in person first. Yeah, I find that hard to believe that it's a quarter, but maybe,

Speaker 2: (03:18)
I don't know. I mean, I don't know in our market if we're seeing it that high, but you know, there are a lot of people that are buying sight unseen. Um, but you know, I wouldn't really kind of blame that or attribute that to the Krone virus. Um, just because in our market we're still essential so we can still show homes. Uh, the only area that we're having, just a little bit of kickback and trouble getting in is in Durham County, but Durham County actually just lifted. And now with vacant homes we can show vacant homes. But so beyond that, really, there hasn't been the need, I guess to naturally do only virtual showings and sight unseen offers. Um, so probably in other areas where, you know, real estate is not deemed essential. You know, I could see that could be a lot higher, but we are still getting that because we are helping clients who are out of state and right now of course they don't want to make the move as far as they don't want to come into the area to look, but they still are forced to purchase a home because whatever their situation might be.

Speaker 2: (04:19)
So they are making sight unseen offers. And even before this pandemic, we were helping a decent amount of people make sight-unseen offers per se. You know,

Speaker 1: (04:28)
you were already seeing a bit of an issue.

Speaker 2: (04:30)
Yeah, yeah. I mean, uh, you know, our, our real estate agents on our team, you know, they do an amazing job with making sure that they make the clients feel comfortable. Um, you know, they've, they have the expertise to really be the eyes and ears, I guess for their client. Um, you know, and they they, they probably are more nitpicky than the actual client would be when they're touring through the home to make sure that they're protecting their clients.

Speaker 1: (04:54)
One more little takeaway from this week, Angie, by the way, if you're looking for an agent to work with here in the area, definitely talk to Angie Cole and her team at école Realty, serving youth about the triangle. Also throughout the greater Fayetteville area, you can call or text to reach Angie directly at (919) 538-6477. Again, that's (919) 538-6477. This is an interesting one, but it's also a great way to illustrate how awesome it is that we can get more up to date and faster guidance from you on a local basis because this will just be a perfect example of how sometimes when life is normal that lag in numbers and data isn't that big of a deal. Like what was true in marches. Not going to be that much different than what's true in April, but when things start moving and shaking like they have been, that is definitely the case.

Speaker 1: (05:43)
So interestingly, March numbers nationally came out. Uh, there was definitely a dip in sales across the country in March out West saw the biggest drop of over 13% from February's numbers. However, if you at what it looked like a year ago in March, the median home price was up 8%. Again, this is nationally, uh, compared to a year ago. Those numbers, do they have any context here locally? And especially now that we're already, you know, deep into April and about to turn the page to may. Sure. W w how do you react to numbers like that?

Speaker 2: (06:17)
Yeah. Um, overall actually, so showings definitely dropped off big time, um, in March, but actually our numbers stayed steady. Our, you know, I know you said large drop above our 13%, but we actually did not see this major drop-off. Um, as far as sales go is that, it was actually, we were above from last year and I don't know the exact numbers off the top of my head, um, but I know that we were above 2019 showings down, but the closing showings were down, but they were, yeah, things were still selling and you know, however, the, you know, you gotta remember Tita showings were down, but we were finding, and we advise us to only go look at a home in LA, you know, if you really love it. Right. So there wasn't as many maybe looky loos out there driving the showings up. Right. It was this, yeah, it was the serious buyers that are out and about. So all those showings were down. Offers were still coming in and homes were going under contract. And then as far as like, you know, the prices going up a hundred percent, you know, our prices are still appreciating. Um, we are still seeing multiple offers, um, on a lot of our homes. A lot of our clients, you know, are getting into many multiple offer situations. So, um, which is driving up the price point because inventory levels are still low.

Speaker 1: (07:30)
Very cool. Excellent data to look at and analyze but also to then get that local perspective always so important to do so. Well this has been a lot of great news, Angie, from the real estate perspective after what felt like several weeks of we were really having to stretch to try and stay positive on the show. I feel like we've got good reason to be positive given some of your experiences over the last two weeks or so and what some of these numbers have bared out. So maybe I'm new to the show, Andrew. Maybe I'm a first time home seller, maybe I haven't done it in a while or I'm kind of just new to this whole process. Take me through what it looks like to sell a home right now in the Corona virus. What's the process look like when somebody reaches out to you and how could somebody get the ball rolling and started if they are interested in maybe buying or selling a new home?

Speaker 2: (08:15)
Yeah, sure. So honestly, the process is no different than what it was before this pandemic. The only difference I would say, um, is if you do not feel comfortable with us coming out to your home for a listing presentation. And by the way, we're using our best judgment to, and we're putting on our mask, you know, I'm using my hand sanitizer, but we can do a listing presentation virtually meaning through Skype, FaceTime, zoom, you know, whatever is convenient for you. But yeah, if you're looking to sell your home, you know, you can always just call me directly on my number and that's nine one nine five three eight six, four, seven, seven. Of course you can shoot me a text message, but we would love to schedule a listing presentation with you and we have a lot of amazing agents on our team who service the listing side as well.

Speaker 2: (09:02)
Um, and we would, you know, tell you all about our team, set up our marketing plan, go through comparables and in that proceed sheet and just walk you through that process. From there, we get our stager in, we get our professional photographer, we do coming soon advertising, we get you on the market and we just run with it. So, um, you know, as far as listing your home, we're one step ahead and it's easy peasy when it comes to working with our team. But when it comes to selling a home, I know normally the first thing you want to know is what your home is worth. And so even before we meet, um, we can go ahead and give you an estimated idea of what your home is worth in today's market. So if you are thinking about selling your home and you want to get an idea of what your home is worth in today's market, you can text the word listing to the phone number by five, five, eight, eight, eight.

Speaker 2: (09:52)
So once again, if you're thinking about selling your home and you want to get an idea of what your home is worth in today's market with your smartphone, you can text the word listing to the phone number five, five five, eight, eight, eight. But make sure you do not stop. There. We will send you back a text with the link, make sure that you click that link and you input your address. We need your address in order to give you an idea of what it's worth and then from there we'll shoot that over to you. So once again, thinking about selling your home and you want to get an idea of what your home is worth in today's market, just text the word, listen

Speaker 1: (10:24)
to the phone number five five five eight eight eight you've been listening to the savvy real tour podcast. I'm Walter store halt alongside Angie Cole. She's the owner and broker in charge of eight Cole Realty here in the triangle. And if you have questions for Angie, we invite you to go online to a Cole realty.com listen to past podcast episodes on the website, read the blog and all the great information including the option to find a home right there on the website. That's a Cole realty.com and you can also call Angie with your questions. (919) 578-3128