Things to Do in the Triangle
Posted by Angie Cole on Monday, April 17, 2023 at 11:35:21 PM
By Angie Cole / April 17, 2023
Comment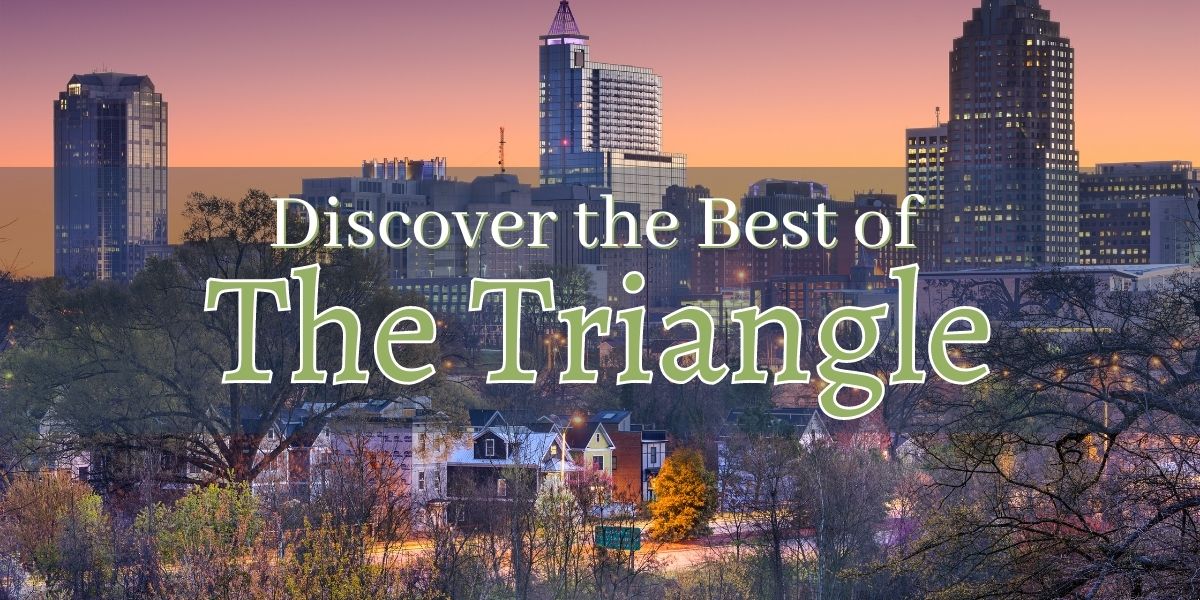 The Triangle is quickly becoming one of the most desirable places to live in the United States. With its strong job market, unique culture, and beautiful surroundings, this comes as no surprise.
If you're one of those people, we certainly can't say we blame you. The Triangle is full of incredible attractions and activities that will make your time here unforgettable.
Here we'll take a closer look at the best things to do in the Triangle. From exploring its museums and historic sites to hiking and biking through picturesque trails.
Whether you're a nature lover, history buff, or foodie, there's something for everyone in the Triangle. So let's dive into the top things to do in this exciting and thriving area.
Raleigh
Raleigh, the capital of North Carolina, is a vibrant city with a rich history and a bustling downtown area. It's also home to several museums, parks, and historic sites that are must-visit destinations for those in the Triangle. Here are just some of the best things to do in Raleigh.
Explore the North Carolina Museum of Art
With over 40 galleries of art in the permanent collection, the NCMA is a must-visit destination for art lovers. Their exhibits include ancient artifacts, contemporary pieces, and renowned works of art. Visitors can also enjoy the museum's extensive outdoor collection spread across a 164-acre park.
Immerse yourself in heritage at the North Carolina Museum of History
The NC Museum of History is the best way to learn about North Carolina's past. From its Native American roots to the Civil War and beyond. Visitors can explore the exhibits, including interactive displays, artifacts, and photographs, to get a glimpse of North Carolina's past.
Visit the North Carolina State Capitol
The North Carolina State Capitol is a stunning building that has been in use since 1840. Visitors can tour the impressive interior, which includes a rotunda, a historic courtroom, and exhibits detailing North Carolina's political history.
Shop and dine at the Raleigh City Market
The Raleigh City Market is a bustling area filled with open-air shops, restaurants, and cafes. Visitors can enjoy local specialties like barbecue, craft beer, and handmade crafts while soaking up the city's atmosphere.
Walk or bike the Neuse River Greenway Trail
The Neuse River Greenway Trail is a 27.5-mile paved trail that winds along the Neuse River. It's a popular destination for anyone wanting to enjoy the area's natural beauty while getting their steps in.
Is Raleigh right for you?
Whether you're looking for culture, history, or outdoor activities, Raleigh has something for you. And there are homes in Raleigh available to meet any need and budget.
Durham
Durham, the "Bull City," is a city rich in history and culture. It's home to several museums, beautiful parks, and iconic landmarks that make it a popular destination for locals and tourists alike. Let's look at some Durham attractions.
Visit the Durham Bulls Athletic Park
The Durham Bulls Athletic Park has been home to the Durham Bulls, a minor league baseball team, since 1995. Visitors can take a tour of the park, watch a game, and take in the beautiful views of the city.
Explore the Museum of Life and Science
The Museum of Life and Science is an interactive science museum that's perfect for families. Visitors can explore the museum's many exhibits, including a butterfly house, a dinosaur trail, and a wildlife habitat. And it's not just for the kids! The museum offers after hours adult events where you can learn with your favorite libation in hand.
Experience the American Tobacco Historic District
The story of The American Tobacco Historic District starts in 1890 when the tobacco industry was thriving in Durham. The former American Tobacco Company has now been repurposed into a multi-use "live, work, play" complex. Visitors can take in the history and architecture while enjoying everything from craft cocktails and delicious cuisine to Broadway plays.
Take a tour of the Duke University Campus
Duke University is one of the most prestigious universities in the country, and its beautiful campus is worth a visit. Visitors can tour the campus and admire the Gothic-style architecture, the beautiful Sarah P. Duke Gardens, and stunning views.
Hike or bike the Al Buehler Trail
The Al Buehler Trail is a beautiful 3.1-mile trail that's perfect for hiking, jogging, or cycling. The trail winds around the Washington Duke Inn and Golf Club, offering stunning views of the surrounding area.
Is Durham right for you?
Durham is a city full of history, culture, and natural beauty. Durham homes offer a fantastic opportunity for buyers looking for a perfect mix of urban and suburban living.
Chapel Hill
Chapel Hill, known as "The Southern Part of Heaven," is a charming town with a rich history and cultural scene. It's home to UNC at Chapel Hill, museums, and beautiful parks that make it a must-visit destination in the Triangle. Here are some of the best things to do in Chapel Hill.
Visit the University of North Carolina at Chapel Hill
The University of North Carolina at Chapel Hill is one of the oldest and most prestigious public universities in the US. In addition to the beautiful campus, UNC is home to the Carolina Basketball Museum. It offers visitors the opportunity to learn about the history of the school's basketball program. Go Tar Heels!
Explore the Morehead Planetarium and Science Center
The Morehead Planetarium and Science Center is a fun and educational destination for visitors of all ages. Visitors can explore the interactive exhibits and attend one of the many shows they offer.
Take a stroll through the North Carolina Botanical Garden
On the campus of UNC, you'll find the North Carolina Botanical Garden. A beautiful 700-acre garden that's home to over 7,000 plant species. Visitors have the opportunity to attend guided tours, and participate in gardening workshops.
Shop and dine at Franklin Street
Franklin Street is the heart of downtown Chapel Hill. It's considered the epicenter of social life for not only UNC students, but the town in general. In addition to dining and nightlife, Franklin Street is home to cafés, music stores, and museums.
Hike or bike the Carolina North Forest Trail
The Carolina North Forest Trail is a beautiful 7.2-mile trail that winds through the Carolina North Forest. It's a popular destination for hikers, joggers, and cyclists who want to enjoy the area's natural beauty while getting some exercise.
Is Chapel Hill right for you?
Chapel Hill is a town renowned for its rich history, diverse culture, and breathtaking natural scenery. Homes in Chapel Hill offer a wide range of options for buyers seeking to move to this charming community.
Conclusion
As a premier brokerage in Raleigh, we at A Cole Realty want to help you find your perfect Triangle home. Our team of experienced agents is dedicated to helping you find a home that meets your needs and budget. We are committed to providing exceptional service, expert guidance, and personalized attention.
So if you're considering moving to the Triangle, don't hesitate to contact us today. Let us help you find your dream home in this beautiful part of North Carolina.