What Buyers Really Want
Posted by Angie Cole on Thursday, March 7, 2019 at 5:00 AM
By Angie Cole / March 7, 2019
Comment
The Savvy Synopsis
The National Association of Home Builders recently released a report ranking the top must-haves of home buyers. Find out what features were top priorities, and learn what buyers really want in a home.
Download this episode (right click and save)
Featured Foundations:
Top Buyer Priorities: What Buyers Really Want.
1:52 - Interestingly, laundry rooms were at the top of the list. Most buyers want a walk-in laundry room. Remember, your definition of a laundry room might be different from another buyer's definition.
2:30 - Energy Star appliances and windows were all ranked among the top ten features buyers most want. It's a little surprising as it doesn't seem like Energy Star ever comes up as we're talking with buyers. It's a feature that looks good on a list. However, 68 percent of buyers said they wouldn't be willing to pay extra for those features.
4:12 - An outdoor patio appeared at number three on the list. While this is certainly a desirable feature, we tend to think most folks in our area would prefer a screened porch.
5:30 - Open concept floor plans were also on the list. This definitely remains as a top priority for buyers here in RDU.
6:10 - Another interesting feature listed was exterior lighting. Of course, most homeowners enjoy outdoor walkway lighting or floodlighting. However, it's not something we typically see as an absolute must-have.
7:40 - Double kitchen sinks were on the list, and this one seems controversial. We tend to find more of an interest in farmhouse sinks.
9:00 - While these items are interesting, they're not necessarily worth adding to your home if you're selling your house. Adding these features wouldn't increase your resale value enough to make it worth the renovation.
Mailbag.
13:22 - Brent lives in Cary. The previous owner of his home converted a closet into a bathroom. Unfortunately the air handler, which was in the closet, is now behind a wall the previous owner installed to make it feel more like a bathroom. The air handler is broken, and Brent is debating whether he should simply convert the bathroom back into a closet. He's had to tear down a wall to fix the problem, and he's worried about resale value.
Get In Touch:
Subscribe:
Apple Podcasts - Google Podcasts - Spotify - Stitcher
The Host:
Angie Cole - Contact - Call: 919-538-6477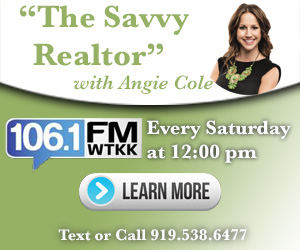 Show Transcription:
It's time for The Savvy Realtor podcast. I'm Walter Storholt alongside Angie Cole the owner and broker in charge of A Cole Realty serving you throughout the Triangle teaching you about the ins and outs when it comes to buying or selling a home. You can find the team online by going to A Cole Realty dot com that's A C-O-L-E Realty dot com or by calling 9 1 9 5 7 8 3 1 2 8 that's 9 1 9 5 7 8 3 1 2 8. And now it's time for one of the top realtors in the Triangle. Angie Cole and The Savvy Realtor podcast. Spend some time talking about some of these top buyer priorities. Now this was the National Association of Home Builders releasing its 2019 edition of what buyers really want report.
So they had buyers rank one hundred and seventy five different home features on how essential they were to their purchasing decisions. And here's the list and I want to talk about some of the things on the list do they jive with our local market. First of all in with your experiences and also from the sellers perspective what can they take away from some of these ideas. So again this is people who are presumably interested in new homes new builds. So keep that in perspective. OK. Also the percentages on here are really weird because they don't add up to 100 percent what I'm guessing. I didn't read like this fine print of how they executed the you know article here what I'm guessing is they probably say What are your top 10 desires. And so the percentages are how often that item probably made the top I think you're right.
That's right. That's my guess. Yeah. One hundred and seventy five different home features and these were the top so most people I guess chose these I chose these these kinds of items.
Yeah right. It made someone's top a list this percent of the time. So just in case you're at home we're gonna do these percentages it really doesn't make sense. We're better at math on this. Yeah maybe. So interestingly laundry room was at the very top of the list 91 percent of people had that on their top priority list. Sure.
I think that's important. Some people have the laundry closet but I think most prefer a laundry room walking. Surprising that that's like the top thing though. Well you know what. And what is the meaning behind laundry room. Is it just I want a laundry room. I've been in homes before that don't even have laundry rooms right. So hey I want a true lounge room inside my home. Not in the basement. They meant it that way. Yeah. I don't know.
Could be a couple of live again in the context of new home building right. People are like hey this is important to me I want a laundry home as you're building this new home. Yes. That's an interesting second item on the list. Now let's combine this with a couple other things. Energy Star windows was number two on the list. And in fact speaking of energy also making the top 10 where energy star appliances and energy star just the entire house being energy star rated I guess so it just seems like a lot of home efficiency items were really high on the list.
You know that kind of surprises me because I'm trying to think of when we are working with buyers. Does energy star ever come up and I want to say no. Interesting. Maybe a vicious put out in front of you as a list is like OK yeah. That's important. But whenever we talk through someone's must haves in a home. I wouldn't say that they are ever saying the words I want energy star this. Right. You know.
So would they replace the energy star. Because that's kind of like a brand. Right.
So they may save an energy efficient green green I. That's not something that comes up any more it's like I want a single family I want a master on the main floor I want. You know hardwoods not energy star. So I was surprised there.
Well this may kind of validate your opinions here of it being on a list is one thing but then actually really getting into the nitty gritty. Sure. Although all of those items were highly desired. Sixty eight percent of folks said that they would not be willing to pay extra for the features. Right. For that and that really tells you the importance.
Right. Exactly. Yeah. So there you guys although if it's in front of you like OK I need to check my 10 favorite maybe let me check. Energy Star. But if it's not at top of mind I don't think that people are thinking about that. And like you just mentioned am I going to pay extra money because now it's Energy Star certified. Probably not. 68 percent of people said no.
Yeah absolutely. Patio was listed as the third most popular desired item among this group of buyers 87 percent had that on their priority list.
You see I don't play around our area though I would think it would be screen porches. OK. Don't you feel like everyone loves a screen porch here in our area I think because of the mosquitoes. So now I was thinking the same thing basically. Oh yeah. Ok maybe maybe it is. I mean if they're lumping it in together because whenever I think of a patio I think of either a paver or cement patio outside.
But a screen porch is actually you have a DAC and or whatever but it's screened in right and I think because of the bugs in North Carolina I think that's why we hear that a lot. I must have a screen in porch. Yeah but a patio. Not as much.
I would lump patio screen in for even deck. I kind of one to my mind would kind of lump all OK but maybe not here. It did. No I didn't see the whole list of all one hundred and seventy five. I do. So that would maybe if deck and screen in Port separate in order that would tell us.
And this is a national. It is. Right. Yes. So I mean other other areas which is you know I'm thinking like Arizona or something or you know right they don't have many bugs I don't think. I don't know what they have. I think they have a lot of patio Scorpions or some. Right. But you know that's I guess we don't we don't care about scorpions.
Also on the list was an open layout. Now we did a show several months ago they talked about it was someone's opinion that open layouts are on the way out but this clearly shows that a lot of people desire that.
Yeah I would say for us I mean that's definitely a top. So I am actually surprised that that wasn't one of the number ones is the open layout. That's still the most high importance for most people I would say in our area ceiling fan was very high on the list. We have another one I you know if it would someone ever say my must haves a must have ceiling fan I had all my bedrooms you know go pay a hundred dollars go get a ceiling fan I think it's just on the check list Yeah I want ceiling fans I think everyone likes some air circulation or in their shirt when a garage storage was high on the list as well.
That makes sense. Sure
Yeah. People are actually just storage in general. We're got lots of stuff. So yeah that's always when we hear exterior lighting high on the list too.
Interesting. I think once again you know it's like I'm thinking a floodlight. Yeah. You know Coach lights you know is it something that we all like especially once we lived in the home you know we realized oh it's really dark but I don't typically see that as being you know a must have on my check off list I must have some floodlights right.
I think it's important. But yeah well we'd love to do some lighting up the patio or up the driveway I mean and maybe light up one of one or two with a tree we just didn't have that kind of kind of landscape lighting in it.
But it's not really high up the list like it. Right. It wasn't rewarded by the home that way.
It's something after lived in there couple of years we decided to do you know it because it's more of just the look the visual the on Beyonce you know are we gonna get money back for it probably not but it makes it look pretty at night.
Again caveat. These are people that were talking about buying a new home a new build. Sure. So that may be a more important thing for someone who's getting hey we're building new. Let's go ahead and have this. Yes. So I agree with you that it's a little higher. Walk in pantry is also high on the list.
I can see that I could see valuable thing. You know what I was surprised and I'm looking at this list with you right now is I don't see a walk in closet. I thought that would've been higher than that. Yeah I mean that to me for most people. I must have a huge walk in closet. Yep. So I was surprised there.
Hardwood flooring was in the top 10. I house. Yes. Nothing really did need to be said about that one. This was interesting double kitchen sink.
I'm surprised there aren't the farm tubs farmhouse that our mouths. Yeah it is very common you know.
But do most people ask for a double sink or like a vegetable sink. You know maybe in the bar island to me that's not as common. Yeah. I don't have one in my home. I don't know that I would ever even use a second sink to be honest with you so I don't know.
So all of those things were 80 percent or more desired by new homebuyers on. It was on their priority list. Also I just want to throw in their washer and dryer on the first floor was on 70 percent of the list.
That's interesting me because typically what we see now in New Builds is where ever our master bedroom is located. That's where the washer and dryer is located. That's how builders are building homes in interest.
That's pretty much the known in our area because for example of all the bedrooms are upstairs. Yeah I would I want my laundry downstairs I'd love it upstairs and I want it where the bedrooms are. Yeah. Personally I mean that's how it is in our home in our homes fairly newer. But all of our bedrooms are up in our guest suite and our laundry runs up. Ours is not like that but I think that would be cool dad. It's like that's a new way of doing the new way of building just like the Obama plan. All the builders are pretty much gone that route. It's washer and dryer is wherever the master bedroom is located.
Yeah. So it's pretty interesting to see that was still pretty high to have that on the first floor. So interesting I thought that was. I don't know. What are your takeaways from that in terms of our our area and from a seller standpoint doesn't give you any info to make sure you're kind of appealing to the census.
Yeah you know a lot of these items unfortunately when it comes to sellers though is design layout already. And so there might not be much you can do to improve your home. For example the open layout it is what it is you're walking closets you walk in pantries but you know Harvard flooring if you are able to add nice flooring throughout the main floor. That definitely will help to get a home sold a little bit quicker. You know in your garage you can definitely make it work. There's some additional garage storage. If you're living in a home and maybe your windows are old they're starting to rot because they're the wooden framed instead of the vinyl. You know that could be a good idea to replace those. Now it's not going to be cheap but I do feel like a lot of these items are more of a layout you know design specific that I don't know that someone could go and really start changing without you know putting a lot of money into so yeah.
Interesting. Good takeaways. I wanted to hit on the sure if that's what you're looking at now. That was perfect. It's perfect. A few other little things here. So I wanted to hear what was at the bottom of the list of the least important things that were desired. An elevator. Right. So. Not a lot of people have that at the top of the list no need for that. Yeah. Wine cellar. I mean sloppy. Would think they'd be pretty cool.
But sure banana must none of us know this or maybe laugh pet washing stations. It's funny because I have seen a handful of homes with pet washing station. I mean what is that. It's more it's almost like a half sized shower is all it is like the mud room area.
You know I feel like the sellers are super proud when they have one because damn that's important. But you know I. We have a dog lover dog but we just take her to the groomer to get washed up right a pet washing station is not a top priority for us.
But if it's that small dog too I mean just get one of those like we used to wash our dog mini back in a moment about to back in high school we had like one of those utility tubs that you add would washes paint brushes in and now just it was in a lot new wardrobe. You know like utility sanctions. That that's where you know that's where she got her bath. Exactly. Anyway. Or just take him outside use the hose that works sip option as well. Plant covered roof was another desired option but it was way at the bottom. I don't know. The plant covered roof.
I mean I can't keep plants alive moss or maybe a covered roof would be useful something like that. I don't know.
I don't know what that is. Maybe there's some eco thing there where if you have like plants covering a roof it keeps they absorb the water or it's a blocks the sunlight from heating up another day.
So this is a well-known term that they are like you guys don't know what a plant covered roof is with you not here in the triangle and then daycare center was listed.
Now I'm going to guess that's more of a community amenity. Yeah. Maybe they through some community maybe is in here because I don't see anybody's actual house having a daycare center but that would make me laugh. Right. Yeah. More than anything though. This made me laugh because I didn't know that this was a thing fun way to end the show this week. Dual toilets in the master bathroom now.
Now water. I have seen that. So it is a thing. It is very weird. You know I personally I. That's my private time and I don't care to see my husband using the restroom at the same time that I am.
So to me the really key question is the layout of the door toilets. So are we talking like his and her dividers. Or are we talking like where we can high five.
Well I so I've seen both. I've seen where they're pretty much facing each other. Guys I've also seen where there was an actual urinal on a wall right beside the toilet. OK now so more like a wife might be like you're using the urinal whenever you have the tank. All right don't be peeing on my seat. I've also seen separate closets. But you know we just need one toilet. There's other bathrooms that we both need use the restroom at same time go to another bathroom. That is weird. This is too funny. All right. You have dulled toilets and your master bathroom anything that's really neat. Here at the show we think it's a little weird.
I'm just chuckling over the high fives that can take place. Well the dual toilet use is going on I love it. So that's pretty funny. All right well helpful information on today's show Andy. I don't know how I transition from that back to serious topics but we'll get back to all the real estate talk. Coming up stay tuned. This is saving real for the future
It's time for the mailbag. We want to hear from you
Brent and Carrie and we've had a couple of shows recently Angie where the questions have started off with things like I don't mean to be a jerk but or I don't mean to offend you.
Right. So it's nice to have one that starts off with here's a fun one for you. OK. Let's hear Brent a little bit different direction. The previous owner of our home I think converted a closet into a bathroom but we just found out that the air handler which used to be in the closet is now behind a wall that he installed to make it I guess feel more like a bathroom. Well now the air handlers broken and we've literally had to tear down a wall in the bathroom to service it should we just convert this thing back into a closet or will that really hurt our resale value.
Well it sounds like a fun one. Brett now I would be a little bit more concerned about the resale value as far as the UN permitted work. That sounds like has taken place and the only reason why is state that is if you had to tear down a wall in order to service your heating cooling exchange. It sounds like it wasn't properly moved. I'm only assuming that permits were not pulled when they you know kind of redid this whole closet space and remodeled and turn into a bathroom. I'm just saying that because I don't think that the county would give you the OK on something that is completely blocked off and cannot be maintained. So you know what I would suggest doing is one or two things I would either turn it back into the closet space so the original you know lay out a b home or I would make sure that you kind of retroactively go back and you get permits pulled for this bathroom area. I don't quite have enough information to let you know whether or not it's going to hurt you by removing the bathroom because I don't know how many bathrooms you have in your home right now. For example if you only have one bathroom adding a second. Yeah that's definitely a positive. So I don't really have the feedback there but my biggest concern with you is it sounds like you have some uncommitted work that was completed in your home that you purchased.
Yeah pretty interesting scenario there I guess you could put the wall back up but build a like a little door that you could then get into access you know from the bad where my door in the bathroom begins to deal.
Now that you are aware Brent of this situation it sounds like maybe everything wasn't quite disclosed to you in regards to selling and it sounds like once again you have some uncommitted work that was completed I think I could be wrong listing so definitely just get some more information guidance look at your specific situation.
Yeah. If you've got six bathrooms in your house then maybe it's not a big deal to peel back the shower or five or whatever.
And I would go ahead and you know at this point Piper reach back out to the original seller and their agent just ask those questions. You know we thought this was the original layout you know was there any type of renovations or changes that were made and unfortunately sometimes there are surprises like that that come up when buying a home and you know even though we ask a million questions to represent you as a buyer you know sometimes things are not always present disclosed to us. So I would go and ask these questions and just kind of get down to the nitty gritty of it and see if you know pulling permits is smart to keep that bathroom or just go back to the original closet.
You've been listening to the savvy real tour podcast. I'm Walter store Holt alongside Angie Cole. She's the owner and broker in charge of ACO realty here in the Triangle and if you have questions for Angie we invite you to go online to a call realty dot com. Listen to past podcast episodes on the Web site read the blog and all the great information including the option to find a home right there on the website. That's a call realty dot com and you can also call ante with your questions. 9 1 9 5 7 8 31 28.
The above audio transcript of "PODCAST 034 - TOP PRIORITIES - ANGIE COLE.mp3" was transcribed by the best audio transcription service called Sonix. If you have to convert audio to text in 2019, then you should try Sonix. Transcribing audio files is painful. Sonix makes it fast, easy, and affordable. I love using Sonix to transcribe my audio files.